Quotations and aphorisms by
KSI

:

I'm a really nice guy when you meet me, and that surprises a lot of people. I'm not that eccentric in real life - and certainly not that disrespectful. In my own time, I like to just chill out with friends and not get in people's faces.
~KSI






Link:

They should just open lots of YouTube schools... as well as, like, a games school, where you can play all types of games. Like, if you want to play racing games, you go there and become a pro at that. Same for football or a shoot 'em up.
~KSI






Link:

I'm now a brand. Like, KSI is a brand. It's crazy that it all came from me sitting in my bedroom just making a few FIFA videos.
~KSI






Link:

I would say, in a year, I spend maybe half of that playing FIFA. I love it that much.
~KSI






Link:

School taught me how to do a 9-5 job rather than be a person who wants to start a business.
~KSI






Link:

When I was, like, 16 or 17, I was just finding out about this YouTube thing. Then I saved a bit and asked my parents for some help to get the recording software and equipment.
~KSI






Link:

I wasn't really into school that much. I was in this building having to cram knowledge I didn't really care for. But on YouTube, I was able to create what I wanted and post it for people to watch.
~KSI






Link:

I am trying to make sure that I don't spend on ridiculous things, so that after all this YouTube thing goes, I'm not left there, like, 'Uh oh, I have nothing.'
~KSI






Link:

The best decision I ever made was to drop out of school.
~KSI






Link:

A lot of people think being at the top means you have to be the best at a certain game. You don't. It's more about personality.
~KSI






Link:

It's pretty cool I'm known for FIFA. If you think of KSI, people instantly think, 'Ah, that FIFA YouTuber.' I didn't think I would be up there as the ambassador of FIFA on YouTube, but I'll take it.
~KSI






Link:

Essentially, I'm a 21-year-old who's a millionaire through gaming, vlogging, and my online experience. Yo, I'll take it!
~KSI






Link:

A lot of people think YouTube is quite easy, when it just isn't. I've been doing YouTube for six years now, and I'd say the hardest years were definitely the first three or four. You have to constantly put out content that is good just to make people come back to your channel, and I work every single day just to try and expand my brand.
~KSI






Link:

If you're having problems with someone on the Internet, simply block the person and move on. And if you do want to meet people from online, make sure you do your research to make sure you're talking to the person you want to be talking to.
~KSI






Link:

I kept on telling my parents school wasn't for me. And they were like, 'No you need to go university.'
~KSI






Link:

I had no clue on what I wanted to do when I was younger, so I was pretty lucky with this YouTube thing.
~KSI






Link: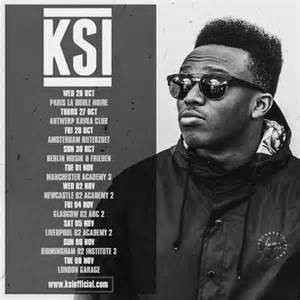 Find KSI on Ebay!
Share:
Permalink:

Browse: