Quotations and aphorisms by
Kevin Love

:

For me, it's always easy and great to be connected to St. Jude.
~Kevin Love






Link:

When you're on the court, there is certain things that you would do that you wouldn't do off the court. When you get off, you obviously have to be gracious and a humble person. When you are on the floor, be a team player. Championships are what you are defined by - legacy. Go about things the right way.
~Kevin Love






Link:

I was lucky. A lot of people have that. People that don't tell you what you want to hear, but what's best for you. I was blessed with great friends. I was always blessed that way. My dad always kept good people around me. I just got lucky. Because of the spotlight you're in, people are scared to tell you otherwise.
~Kevin Love






Link:

I was tagged early as the prototypical white player, the guy with the intangibles - the smart player, the guy who did all the right things.
~Kevin Love






Link:

When he's healthy, Zach Randolph for the Memphis Grizzlies has always been somebody that has always been very tough to play against.
~Kevin Love






Link:

I have a very, very good memory, and I always remember the people who have done right by me and the people who have done wrong by me.
~Kevin Love






Link:

My dad put up a great hoop in our front yard in our driveway. I was in Oregon, so I had to be out there in the rain. We didn't always have a gym to go to.
~Kevin Love






Link:

It's no secret I was willing to commit to Minnesota for five years. I'm very happy with my contract. I'd love to be in Minnesota. But like anybody else, I want to win.
~Kevin Love






Link:

I think any time you have Phil Jackson involved in any organization, you're going to definitely look at it, and it's definitely intriguing. The Knicks are definitely a place where anybody would like to go.
~Kevin Love






Link:

I was talking to Coach Wooden after I had signed at UCLA and over the summer, and we used to talk all the time. The thing is, talking to Bill Walton, once you throw in your two cents, he throws in the other 98 cents. He will not stop talking, I'll tell you what.
~Kevin Love






Link:

Coach Wooden, when he speaks, you listen. I've taken a lot of things from him and his little blue book because to him, it's not just about basketball, it's about life as well.
~Kevin Love






Link:

I just try to keep the same people I've had around me from Day One. Keep it a real small circle because if you do that, not too much is going to go bad for you.
~Kevin Love






Link:

I feel like in order for our team to have the upper hand, I have to play extremely well, and I have to bring the rest of the team with me. That's how I feel approaching every game.
~Kevin Love






Link:

I'll always have a score-first mentality, because that is my bread and butter on the floor.
~Kevin Love






Link:

Randy Wittman told me not to shoot 3-pointers. That got me very uncomfortable. There were certain labels tagged on me very early in my career, spots on the floor where I felt uncomfortable.
~Kevin Love






Link:

I'm kind of a dirty guy, a little Bill Laimbeer-ish. Those are the guys I used to watch growing up. I used to watch Karl Malone; now I watch Boozer and Elton Brand and try to emulate those guys as much as possible because those guys are about the same size as me.
~Kevin Love






Link:

I just go out there and play. I don't know if it's being young and not getting calls, or some other circumstances. I'm just trying to make a play.
~Kevin Love






Link:

To me, throwback means I'm a smart player. I know how to play the game. I'm very skilled. I do a lot of things that other people don't do.
~Kevin Love






Link:

I'm not the one to always follow professional protocol - but I do know what it is, even at 24 years old.
~Kevin Love






Link:

Luckily, I'm young and I have a great training staff that helps me take care of my body day in and day out. You make sure you're eating right. Make sure you're hitting the iron, lifting as much as you possibly can. That's easier said than done because we don't have many practice days.
~Kevin Love






Link:

At the end of the day, I've played six years, haven't made the playoffs yet, that burns me and hurts my heart, so I really want to be playing.
~Kevin Love






Link:

The more downtime we have, the more time you have to play games like 'Ghost Recon Future Soldiers,' so for me it's a fun way to get integrated into video games and for me to have fun with my buddies and team up and go into battle with 'em, kind of like out there on court.
~Kevin Love






Link: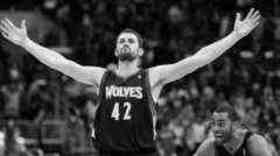 Find Kevin Love on Ebay!
Share:
Permalink:

Browse: