Quotations and aphorisms by
Kevin Kwan

:

At least when it comes to food, there's no snobbery in Singapore.
~Kevin Kwan






Link:

One of the dreams on my wish list is to spend more time in Thailand.
~Kevin Kwan






Link:

My grandparents were far more English in their manners than they were Chinese. For example, we spoke English at home, had afternoon tea every day, and my grandfather, who attended university in Scotland, would smoke his pipe after dinner.
~Kevin Kwan






Link:

I live in New York, but I still get the village gossip. My apartment is a crash pad for so many Singaporean cousins and friends.
~Kevin Kwan






Link:

Writers often say that characters begin to write themselves, and I never used to believe that. I always thought that was complete hogwash.
~Kevin Kwan






Link:

My grandmother used to get her shoes made in Paris in the '30s, and they would be shipped to her in Singapore.
~Kevin Kwan






Link:

There's so much emphasis on the economic might of China, of Southeast Asia, Asian 'Super Tigers' and things like that. But nobody was really looking from the perspective of a family story, of these individuals.
~Kevin Kwan






Link:

I think, at least for me, I'm so impressed by Shanghai and how all of China continues to evolve. On a style level, you're seeing this increased sophistication and brand awareness.
~Kevin Kwan






Link:

I know an elderly society matron in Singapore who would rather walk in the scorching sun for blocks on end rather than have her chauffeur drive into the Central Business District at peak hour and pay the $1.50 surcharge.
~Kevin Kwan






Link:

Canada has become such a staging area for Chinese money.
~Kevin Kwan






Link:

There's always been this tradition of satirizing these rich groups of people.
~Kevin Kwan






Link:

I've recently rediscovered Anthony Trollope. I used to read him back in college, and a friend turned me on to a whole new series of his work, 'The Palliser Series.' It's a series of seven or eight books.
~Kevin Kwan






Link:

Asian literature is evolving with the people. It's always a reflection on what's happening to the culture at large.
~Kevin Kwan






Link:

Living in the West, you see how there's only two versions of how Asian men are supposed to be. Either they're very nice, yuppie husbands with children in ads, or they're IT geeks.
~Kevin Kwan






Link:

I would not call my family 'traditional Chinese.' We were more what I would term the Colonial Chinese.
~Kevin Kwan






Link:

It would have been amazing to have been a student at Oxford during that golden moment in the 1910s, rubbing elbows with the likes of Aldous Huxley and T.E. Lawrence, before World War I shattered everything forever.
~Kevin Kwan






Link:

The characters that populate my books are global nomads in their own right, keeping multiple homes around the world and constantly jet-setting to new places.
~Kevin Kwan






Link:

All Americans knew was 'The Joy Luck Club' and children of dry cleaners trying to assimilate. The Asia that I was seeing was a world of people who are incredibly sophisticated, and I wanted to represent that side.
~Kevin Kwan






Link:

Such huge money has been made in China - it can be hundreds of millions in a year - and there's a need to validate it by showing what they can buy and how much of it.
~Kevin Kwan






Link:

To me, families are fascinating. I choose to explore it through comedy and through comic situations.
~Kevin Kwan






Link:

My books are comedies; I want to take my readers on a jet-setting romp, make them laugh, make them swoon at the beautiful settings, and maybe even make their mouths water at all the food.
~Kevin Kwan






Link:

My father grew up in a life of extreme privilege.
~Kevin Kwan






Link:

It's human nature when you first make your big fortune to want to show off a bit. I don't begrudge that whatsoever.
~Kevin Kwan






Link:

The most important thing to keep in mind is the incredible diversity of talent that's out there - there are so many great actors from all over Asia, from Singapore and Hong Kong to the Philippines and Mainland China, not to mention many great Asian-American actors who are eager for fun and challenging roles.
~Kevin Kwan






Link:

I've lived in New York City for over twenty years now, and every single day is like a new adventure. At this point, there are many places I'd love to visit, but I can't imagine living anywhere else on the planet.
~Kevin Kwan






Link:

Certainly, living in the U.S., as I have for over two decades, you see how Asians are portrayed in the media... I didn't see myself represented, you know, when I used to look at ads on TV.
~Kevin Kwan






Link:

The idea of Asian ascendancy has entered public culture.
~Kevin Kwan






Link:

Even if they're not Asian or super rich... everyone has a nagging mother. Everyone has that obnoxious uncle, or that cousin who's a bit too snobby.
~Kevin Kwan






Link:

A lot of the people who live the lives of 'Crazy Rich Asians' don't see the humour of their lives simply because this is just who they are. Even though I'm from that part of the world, I'm no longer part of that world.
~Kevin Kwan






Link:

In Singapore, there may be 50 old-money families, but you wouldn't know them to look at them.
~Kevin Kwan






Link:

I've always been drawn to the Edwardian period in England. To me, it seems like such a fascinating time, when the British Empire was at the height of its powers and the strict mores of the Victorian age were dissipating into the decadence of King Edward's reign.
~Kevin Kwan






Link:

I go to Shenzhen, China, and am taken to a vast luxury spa with a hundred leather recliners and a hundred accompanying plasma screen televisions bolted to the ceiling.
~Kevin Kwan






Link:

I spent the first 12 years of my life growing up in Singapore. Back then, in the early '80s, it was still a tropical island at the tip of the Malay Peninsula striving to shine on the world stage.
~Kevin Kwan






Link:

In order for me to write a scene, it's very important for me to see and experience everything with my own eyes, so yes, I was able to visit some remarkable houses and destinations while I was in China.
~Kevin Kwan






Link:

I was born in Singapore, and I lived there until I was 12. I had a very fortunate upbringing.
~Kevin Kwan






Link:

In Asia, it's customary to get together with your entire extended family on a regular basis, and it's all rife with politics.
~Kevin Kwan






Link:

My father came from old money. There was less of an expectation for the children to earn a living.
~Kevin Kwan






Link:

I remembered that my grandfather had spent his teenage years in Shanghai and that he went back after he finished medical school to work there in a hospital. So I went back into my family archives and was able to find out his exact address; it was a street that was in the French Concession.
~Kevin Kwan






Link:

I wanted to introduce a contemporary Asia to a North American audience.
~Kevin Kwan






Link:

If I were to generalize a bit, I would say that the ultra rich in Asia live on a scale that far surpasses the wealthy in the U.S. or Europe.
~Kevin Kwan






Link:

I wanted to explore what all this new-found wealth means for the different generations of Chinese who have to live together in this place that is transforming at warp speed into the richest country on the planet.
~Kevin Kwan






Link:

My father went to boarding school in Sydney when he was 14.
~Kevin Kwan






Link:

People have always been fascinated by the foibles of the wealthy and privileged.
~Kevin Kwan






Link:

I'm not sure if being Chinese really helped, but I do think that if a non-Asian had written a book called 'Crazy Rich Asians,' they might not have been looked upon so kindly.
~Kevin Kwan






Link:

I think snobbery is one of the oldest customs in the world, and the rich will always find ways to rank each other and make themselves feel more special than others.
~Kevin Kwan






Link:

The China Rich seem to be spending on a scale that's just beyond anything we've ever seen before. They are building and buying an insane amount of luxury residences around the world, commissioning huge flying palaces from Boeing, and paying ridiculous amounts for art.
~Kevin Kwan






Link:

I'm not revealing any deep, hidden secret that there are wealthy people in Asia.
~Kevin Kwan






Link:

As a child, I could bike down the hill from my house and grab an ice-cold bottle of soda from the neighborhood grocer, which was nothing more than a corrugated metal shack run by two Indian men clad in sarongs.
~Kevin Kwan






Link:

I sort of wanted to reveal this other side of Asia: Southeast Asia, where the Chinese have been wealthy for generations and have different ways of relating to money. I wanted to sort of reveal this world to readers.
~Kevin Kwan






Link:

It used to be, on TV, you'd see only two types of Asians. You'd see the science geek who's using his mobile phone or something like that, or you'd see a very token Asian family - yuppie mother and father and two little Asian kids. It's the last barrier for Hollywood.
~Kevin Kwan






Link:

My mother likes to say that I was conceived to shop - not just born to shop. My whole life as a child was following her and her sister and friends around on her shopping trips.
~Kevin Kwan






Link:

Especially in the West, people want to understand Asia on a deeper level because it's become the engine of the world economy, like it or not.
~Kevin Kwan






Link:

I grew up at a time in Singapore - the '70s and '80s - where it was still possible to go riding around the island barefoot. And I was one of these kids that was just climbing trees and running around the neighbourhood.
~Kevin Kwan






Link:

It's not normal to go into a house and see a pond in the middle of the living room full of baby sharks. It's not normal to go to someone's garage and see a private plane.
~Kevin Kwan






Link:

Old money in Southeast Asia is much more discrete and low key. It's about not wearing brand names. It's about being invisible, almost. The billionaire can be taking the bus with you.
~Kevin Kwan






Link:

No matter our background, we all have crazy families.
~Kevin Kwan






Link:

There are old-money Asians that would never be caught dead with a Chanel handbag or sporting anything that has a label it.
~Kevin Kwan






Link:

If you're the water boiler king of China, you're selling a billion water boilers.
~Kevin Kwan






Link:

Growing up in Singapore, I wasn't allowed to visit China. So when I was finally able to go there after the country began opening up to tourism in the 1990s, I found it to be utterly astounding.
~Kevin Kwan






Link:

I met a Shanghai photographer who finds these old streets and matches the French names to what they are today. I was able to find my grandfather's block, and just walking the same streets and finding his house was deeply moving. I finally felt connected to China.
~Kevin Kwan






Link:

I do believe that peoples' natures can be changed, and they have to be changed if we want to live in this modern world and be a part of it.
~Kevin Kwan






Link:

'China rich' is the new 'crazy rich.' It's a new level of outrageousness. It comes from this world where overnight fortunes have been made, but the fortunes are so ginormous compared to anything we've ever seen in the history of the world.
~Kevin Kwan






Link: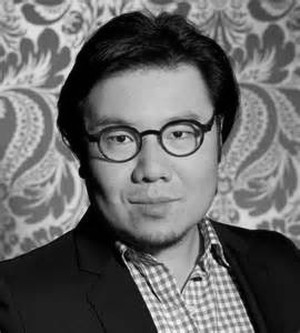 Find Kevin Kwan on Ebay!
Share:
Permalink:

Browse: