Quotations and aphorisms by
Jordan Spieth

:

I was a pitcher, and my dad played in college. The hardest day of my life was telling him I was going to quit to focus more on golf. But with golf, I felt like the game can't be perfected, and that motivated me.
~Jordan Spieth






Link:

PGA of America has been very good to me; played some of the Junior Ryder Cups, and those go down as some of the best experiences I've had on a golf course.
~Jordan Spieth






Link:

If you are going to talk negative about a place, you're almost throwing yourself out to begin with because golf is a mental game.
~Jordan Spieth






Link:

I've told myself I have a chance to make history, and that's my focus.
~Jordan Spieth






Link:

I've got four pairs of cowboy boots.
~Jordan Spieth






Link:

Whenever the heat's on, my whole life, I've just kind of learned to focus a little more.
~Jordan Spieth






Link:

Having inched closer and accomplished some of my major goals in the sport of golf, no pun intended, why not work as hard as I can to attain those goals if I'm already feeling like I'm playing well and getting more and more comfortable.
~Jordan Spieth






Link:

The generation that I'm in is extremely talented, and those that are still in school, my peers that are my age that will be out here really soon, you guys will see, will make a pretty easy transition on the PGA Tour. I don't think they will have a problem at all. The game is getting younger, and the game is getting better.
~Jordan Spieth






Link:

I don't think people can watch University of Texas basketball or football games with me - really, anything Texas is playing - without wanting to punch me in the face. I'm as big a Longhorn fan as you'll find.
~Jordan Spieth






Link:

My only focus after I start the putter away from the ball is keeping the back of my left wrist as fat as possible from start to finish. This is critical to keeping the putterhead and ball moving straight down the target line after impact. It's also how Rory Mcllroy squares his putterface, and obviously it works for him.
~Jordan Spieth






Link:

Stats are important to me, especially the ones related to scoring. You're going to miss fairways and greens out here, so how you play from the sand really matters.
~Jordan Spieth






Link:

Under Armour is new, aggressive, slick, classic but athletic - kind of how I always wanted to be perceived.
~Jordan Spieth






Link:

In greenside bunkers, the big thing is to adapt your stance to the shot. It's rare that you get a flat lie in the sand, so I make sure to align my body to the slope. Then I blast the ball out by splashing the sand underneath it.
~Jordan Spieth






Link:

Without the AJGA, it would be very difficult for the college coaches to find us. Every junior golfer around the country knows about the AJGA and knows that's the way to get to college. And the way to get beyond college.
~Jordan Spieth






Link:

To be able to have winning in your blood growing up, whether it was pounding my little brother or trying to beat my dad in something, or just competing on teams with my friends, it was nonstop.
~Jordan Spieth






Link:

Look at the putt from behind the hole. Everyday players almost never do this. They should! Your eyes will take in more information about the slope. Sometimes you'll find that your initial read was incorrect.
~Jordan Spieth






Link:

A lot of weekend players struggle with putting because they have too much tension in their hands and arms, both at address and during the stroke. Tension can turn a technically perfect motion into a herky-jerky mess, especially on those knee-knockers.
~Jordan Spieth






Link: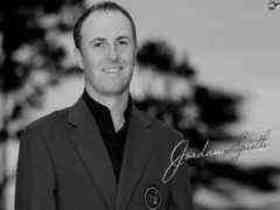 Find Jordan Spieth on Ebay!
Share:
Permalink:

Browse: