Quotations and aphorisms by
Jonathan Vilma

:

Whether we like it or not, we are high-profile athletes. We're role models. Kids come up to me all the time to talk and it makes me remember when I was a kid and I got to meet Jerry Rice and how much that meant to me. And how we've got to set a good example.
~Jonathan Vilma






Link:

I never paid, or intended to pay, $10,000, or any amount of money, to any player for knocking Kurt Warner, Brett Favre or any other player out of the 2009 Divisional playoff game, 2010 NFC Championship Game or any other game.
~Jonathan Vilma






Link:

I'm indifferent and it's a matter of wanting to stay away from the whole Michael Vick situation, whether he is involved or not. I'm not saying anything about dogfighting or anyone who might be involved in it.
~Jonathan Vilma






Link:

I never set out to intentionally hurt any player and never enticed any teammate to intentionally hurt another player. I also never put any money into a bounty pool or helped to create a bounty pool intended to pay out money for injuring other players.
~Jonathan Vilma






Link:

I'm a Saints guy, and I'm on the defensive side and I'm hearing the hell that the Saints fans are giving the opposing offenses and it's pretty tough. It's a huge challenge to manage the defense with that noise, but I'd rather them be loud and pumped up and going than quiet, because if they're quiet it means we're getting beat.
~Jonathan Vilma






Link:

Anybody who likes to play poker, if you want to find a good poker game, you're going to go play. It's not anything where I'm betting the house, like $100,000. You go, kick back, have fun, talk to some of the fans, enjoy it.
~Jonathan Vilma






Link: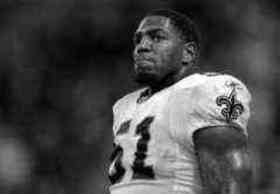 Find Jonathan Vilma on Ebay!
Share:
Permalink:

Browse: