Quotations and aphorisms by
Joey Fatone

:

It's fun to be able to have a fun palate, and the way I say that, you think about it and it sounds funny, but it's true.
~Joey Fatone






Link:

I have kind of an iron stomach.
~Joey Fatone






Link:

It's tough for those celebrity couples. It's really hard. My wife wasn't in the limelight, which made it easier... the key is to keep it happy, light, and fun.
~Joey Fatone






Link:

I'm Italian. I love to cook Italian food, so I learned from my dad how to make sauce and meatballs and all that stuff. With my wife and kids, I started making homemade pasta. The very first time, I didn't have a pasta maker, so I had to cut it with a knife, the old-school way! The noodles were all jacked up, but it was fun.
~Joey Fatone






Link:

I think for me, as far as cooking, some of it came naturally just from watching my dad. My dad was more of the cook than my mom was, so it's just handing it down from generation to generation. I just love to cook and have fun. And as performers, we love to cook, and we love to entertain people.
~Joey Fatone






Link:

Some days I'll cook, and then some days my wife will cook. For me, obviously on Sundays a lot of times we do the sauce and the meatballs and pasta, the whole thing.
~Joey Fatone






Link:

People can sense when someone is fake or real on TV.
~Joey Fatone






Link:

If you combine good flavors, food turns into an orchestra.
~Joey Fatone






Link:

Performing in front of a live audience can be pretty intimidating, so having a full head of hair was important to me.
~Joey Fatone






Link:

I may be able to concentrate on a move, but it may not look exactly how I need it to look like, as far as in the ballroom world. Hip-hop is different; it is a lot more flowy with ballroom.
~Joey Fatone






Link:

'My Family Recipe Rocks' is on the Live Well Network, and we go to people's homes and watch them cook.
~Joey Fatone






Link: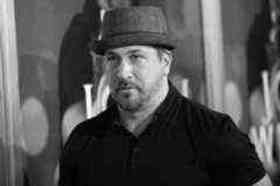 Find Joey Fatone on Ebay!
Share:
Permalink:

Browse: