Quotations and aphorisms by
Jim Ed Brown

:

I would have to say I've been on the 'Opry' at least 30-35-40 times a year for... 51-52 years.
~Jim Ed Brown






Link:

When I started in '54, it was only one track on a quarter-inch machine. We didn't have recording studios much around the country; we went into the radio stations and recorded our records.
~Jim Ed Brown






Link:

If you listen to The Browns, it's a very pretty sound. It was sibling harmony, a sound that was very pleasing. I've never heard anybody that could come close to that particular sound. It couldn't be imitated.
~Jim Ed Brown






Link:

When I started, there weren't any arenas. There was football fields, but they would only hold three or four or five hundred people at the most... We played a lot of high school auditoriums and things like that - a lot of churches... but boy, it has changed.
~Jim Ed Brown






Link:

There's so many great things that happened at the Grand Ole Opry in 50 years. You get the chance to go out and visit with your peers. You get a chance to sing your song and say hello to so many friends and neighbors and all that you have. It's just - well, it's a second home.
~Jim Ed Brown






Link:

I remember the first time I walked on that stage. Maxine and I were just a duet at the time, and we walked on that stage and did 'Looking Back to See.' Ernest Tubb introduced us at the time. I remember my knees were shaking.
~Jim Ed Brown






Link:

Eddy Arnold was a great friend of mine, and through the years, Eddy and I, we did a lot of shows together, and we even worked in some real estate transaction things together, and he helped me there. You know, he was a great real estate man.
~Jim Ed Brown






Link: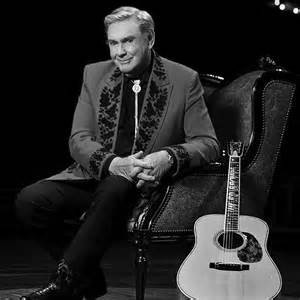 Find Jim Ed Brown on Ebay!
Share:
Permalink:

Browse: