Quotations and aphorisms by
Jeremih

:

Everyone always wants to say I'm shy. I don't think so, but there's a disconnect with my fans. I want my fans to see me - that's what they never do.
~Jeremih






Link:

R. Kelly is one of the pioneers that I grew up listening to. If he's classified as an R&B artist, then I want to be like that. I don't want to have limits either.
~Jeremih






Link:

I want to show people all of me, because that's what I haven't been doing. To be able to play so many instruments, and no one's ever seen me play, it seems like someone who's bluffing.
~Jeremih






Link:

I got my first set of drums when I was around 3. I went from band to marching band to Latin jazz band - it's like riding a bike.
~Jeremih






Link:

What I can offer the game is creating a sound that, when you hear it, you know it's mine.
~Jeremih






Link:

I'm curious to know how many newborn babies will be named Jeremih after my second album.
~Jeremih






Link:

I grew up in a household in which they'd always play old skool classic R&B love songs - Al Green, Sam Cooke, Marvin Gaye... And my mom has even said that, when I was in her womb, she'd put the headphones to her stomach and play those songs to me!
~Jeremih






Link:

Nothing against Nicki Minaj - I think she's a dope lyricist, and her body is perfect, along with a dope personality. But I'm more into a woman who's not so much into the spotlight.
~Jeremih






Link:

If it came down to it, I wish people heard different records from me that I know give you a soul R&B sound of music that I know is really my gift, gift. But the ones that usually go are the records that radio, the fans and the clubs really love the most.
~Jeremih






Link:

I was raised on the Southside of Chicago, and my whole family was musically-inclined.
~Jeremih






Link:

My competition keeps me driven. My family and son and being home in Chicago keeps me humble, and my fans. They're the reason why I'm going hard and making sure everyone knows how to say my name.
~Jeremih






Link:

When I look for a woman, I look for one that's real - that's keeping it 100. I rather someone know that they're sexy and not show it.
~Jeremih






Link:

'Down on Me' can't showcase my true talent. 'Birthday Sex' was robotic. When I perform it, I can't give you this church feeling I know I can give.
~Jeremih






Link:

It took me five years to realize what I could do with my voice. No Auto-Tune - cut all that off.
~Jeremih






Link: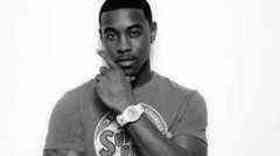 Find Jeremih on Ebay!
Share:
Permalink:

Browse: