Quotations and aphorisms by
Jeff Kinney

:

My office doubles as a karaoke den for the neighborhood. There are strobe lights and Rock Band plastic guitars, a disco ball and a fog machine and some other things. I have a really long work day, and you might find me doing karaoke by myself late at night.
~Jeff Kinney






Link:

I don't think of cartoons or comics as being for kids.
~Jeff Kinney






Link:

I'm an author whose strength is in gag-writing.
~Jeff Kinney






Link:

I remember once I had lunch with George W Bush, his father, and Condoleezza Rice. Then I went home to find my dog and my neighbour's dog fighting over a dead rabbit, and I had to separate them. I like that my home life keeps things real.
~Jeff Kinney






Link:

I write in reverse: Rather than come up with a narrative and write jokes for that narrative, I write jokes independently of the narrative, then I try to fit them in.
~Jeff Kinney






Link:

When I was on the swim team as a kid, I used to hide out from my coach by going into the bathroom and hiding out in one of the stalls. And I would literally wrap myself in toilet paper so as not to get hypothermia.
~Jeff Kinney






Link:

I'm very excited to see the wonderful 2-D characters in Poptropica come to life in the form of 3-D toys. When I first held the characters in my hands, it felt like magic. I'm excited for kids to have the same feeling!
~Jeff Kinney






Link:

On the first day of school, you got to be real careful where you sit. You walk into the classroom and just plunk your stuff down on any old desk, and the next thing you know the teacher is saying, 'I hope you all like where you're sitting, because these are your permanent seats.'
~Jeff Kinney






Link:

I had a very normal, very typical American childhood. My father worked for the government at the Pentagon and my mother was an educator, so we had a very average upbringing, but that's helped me in my writing because I'm writing about ordinary things.
~Jeff Kinney






Link:

Looking back, I realize my favorite stories weren't in books, they were in comics. On top of being a history enthusiast, my father was also a comics fan, and he kept his stash in the top drawer of his dresser, in easy reach of a kid making a beeline to the bathroom.
~Jeff Kinney






Link:

I can't divorce myself from my childhood. I try to write as much fiction as I possibly can, but there are so many things that are touchstones of my childhood like being on the swim team and playing soccer and the particularities of sports season and environments that make their way into my books.
~Jeff Kinney






Link:

I read the 'Harry Potter' books as I was writing my own books, and I love them, but I don't think Harry was very much like I was as a kid. He's always brave, and he's perfect in a lot of ways.
~Jeff Kinney






Link:

With the recent addition of a full soundtrack and the players map, millions of Poptropicans around the globe are now fully immersed in a multimedia gaming experience when they embark on our high quality adventures.
~Jeff Kinney






Link:

I write for kids because I think the most interesting (and most humorous) stories come from people's childhoods. When I was writing 'Diary of a Wimpy Kid,' I had a blast talking on the phone to my younger brother, Patrick, remembering all of the things that happened to our family when we were growing up.
~Jeff Kinney






Link:

I take comedy very seriously, and I feel very competitive.
~Jeff Kinney






Link:

I only work on my books at nights and at weekends. It is really just like a hobby.
~Jeff Kinney






Link:

To come out and meet kids who have my books in their hands is kind of amazing.
~Jeff Kinney






Link:

I was an average kid who had his wimpy moments.
~Jeff Kinney






Link:

When I was growing up, my house was filled with books. My mother was an educator, and my father was a history buff, so our home was a virtual library, covering every author from Beverly Cleary to James Michener.
~Jeff Kinney






Link:

I've never run into a person who yearns for their middle school days.
~Jeff Kinney






Link:

When I started writing 'Diary of a Wimpy Kid,' I was trying to write the type of book you might enjoy, put back on your shelf, and rediscover a few years later. I hope that the book finds its way into the bathroom of every kid in America.
~Jeff Kinney






Link:

Luckily for me, my father had impeccable taste. No contemporary collector was he. His treasure trove of comics included gems such as 'Little Lulu,' 'Frontline Combat' and 'Classics Illustrated.' But the works that stood head and shoulders above the rest were Carl Barks's 'Donald Duck' and 'Uncle Scrooge' comics from the 1940s through the 1960s.
~Jeff Kinney






Link:

Working with Dav Pilkey was a dream come true. Dav is incredibly funny, and he's been a hero of mine for a long time. It was great bringing the 'Wimpy Kid' and 'Captain Underpants' worlds together!
~Jeff Kinney






Link:

I feel, as an adult, I'm very similar to how I was as a pre-teen. Maybe it's a case of arrested development, but I feel like it's easy to slip back into those shoes, and I feel like if we were all magically transported back to our middle school years, we'd all act like we did in middle school.
~Jeff Kinney






Link:

Kids can sniff out when they are being preached to, and they don't like it. So while my books aren't amoral, they are not infused with morals or a message, either, and kids like that.
~Jeff Kinney






Link:

If there is any message in the 'Wimpy Kid' books, it is that reading can be and should be fun. As an adult reader, when I see an obvious moral lesson to be taught, I run in the other direction... Kids can sniff out an adult agenda from an early age. I'm writing for entertainment, not to impress literary judges.
~Jeff Kinney






Link:

My advice to authors would be to try to do something original rather than to try to anticipate what the market is looking for.
~Jeff Kinney






Link:

I work in the house next to where I live. We bought a smaller house that I use as my office and the place where my two employees work... We've got tens of thousands of letters from kids stored all over the house in places you would usually put dishes and other things like that.
~Jeff Kinney






Link:

Kids can sniff out a moral. They can feel the heavy hand of an adult.
~Jeff Kinney






Link:

On our swim team, they had something called the 'developmental meet.' I didn't know it was a meet only for the worst kids so that they could get a ribbon, and I'd show up with my friend who was also a terrible swimmer, and we would be amazed that the best kids hadn't bothered to show up. I didn't get it until after college.
~Jeff Kinney






Link:

I'm keeping my day job, because Poptropica is something that really energizes me. I'd love to create a TV series or write a film that's not in the 'Wimpy' universe, but I know it will be difficult to create something from scratch. But I love creating good comedy for kids, so I hope to have another successful venture in the future!
~Jeff Kinney






Link:

We're incredibly excited to welcome the 500 millionth Poptropican into our virtual world. When we started in 2007, we never could have imagined that we'd see a day when half a billion avatars inhabited Poptropica.
~Jeff Kinney






Link:

'Diary of a Wimpy Kid' is my first book, and it's the fulfillment of a life-long dream. I had always wanted to be a cartoonist, but I found that it was very tough to break into the world of newspaper syndication. So I started playing with a style that mixed cartoons and 'traditional' writing, and that's how 'Diary of a Wimpy Kid' was born.
~Jeff Kinney






Link:

I think if everyone would write down the funny stories from their own childhoods, the world would be a better place.
~Jeff Kinney






Link:

In middle school, I started to draw, and my pencil sketches were huge. They were these 4ft by 3ft drawings, and I got a lot of attention for that, so that was very validating. But I didn't start cartooning until I was in college.
~Jeff Kinney






Link:

My life is pretty ordinary in so many ways. I live in a town called Plainville. I have the life of an average dad. It feels like I have this secret identity as an author, and it's still very surreal to me.
~Jeff Kinney






Link:

I can tell you that the book 'The Ugly Truth' is about puberty and all the awfulness that comes with that time in a person's life. It was definitely some different subject matter to be writing about, especially knowing some of my audience are second and third graders.
~Jeff Kinney






Link:

I feel lucky I didn't become that newspaper cartoonist I wanted to be because in the U.S. so many newspapers have suffered circulation declines, and some have folded. What's fun about being an author is I reach a much bigger audience, and there is something special about launching a book you've penned.
~Jeff Kinney






Link:

I labored for eight years thinking I was writing a book for adults that was a nostalgic look back on childhood. Then my publisher informed me I'd written a children's book.
~Jeff Kinney






Link:

I'm not good at narrative; I'm really a gag writer, and that comes from being in the newspaper comic strip world for a while in college. What I do is I just write tons of jokes, then I sort them out in terms of quality and then pick the best of the jokes and then try to form them into a plot. If I get a good theme going, I feel lucky.
~Jeff Kinney






Link:

I gravitated to Judy Blume early on. 'Tales of a Fourth Grade Nothing' was my favorite, with a realistic and relatable protagonist in Peter Hatcher. When I reached the fourth grade, I made the leap to science fiction and never looked back.
~Jeff Kinney






Link:

I had an older brother, an older sister and a younger brother, and though I look back fondly on my childhood, I think that when you've got four siblings sharing the same resources and a single kids' bathroom, it's going to get a little tense at times.
~Jeff Kinney






Link:

I never thought I was writing for kids at all. It really shocked and unsettled me to hear kids were buying the books. If I'd known I was writing for kids, I might actually have spelt things out a bit more, and that would probably have killed the appeal.
~Jeff Kinney






Link:

When kids get stuck on one of our quests, we now have an app for that. It is so cool to know that now kids can use mobile technology to learn more about Poptropica's great adventures and solve its challenging quests.
~Jeff Kinney






Link:

It seems that when anything aimed at kids catches on, it causes the collective antennae of the older set to go up.
~Jeff Kinney






Link:

I'm not even the most influential person in my own house.
~Jeff Kinney






Link:

The key to any good comic strip or television sitcom is to reset the board at the end of the episode because people like familiarity.
~Jeff Kinney






Link:

I've learned to accept that I'm a children's writer, even if it's not what I set out to become. It's what I should have been all along, and I'll stay in this role as long as I'm a writer.
~Jeff Kinney






Link:

We're extremely excited to see more than 500,000 friends around the globe be added within the first 12 hours of launching Friends on Poptropica. The reaction has been extremely positive from fans, and we're proud to bring a completely safe friends offering to kids on our virtual world.
~Jeff Kinney






Link:

I draft on the computer. I have a really giant screen that attaches to my laptop, and then I have a humongous digital drawing tablet called a Cintiq. It sits at all different angles, and it's so big that it would take two people to move it.
~Jeff Kinney






Link:

I do all my speeches in pictures. If I wrote words, I'd get locked in on them.
~Jeff Kinney






Link:

I'm not very charismatic or telegenic. I feel bad for the kids waiting three hours in line for their book to be signed.
~Jeff Kinney






Link:

I really wanted to be a newspaper cartoonist, but nobody liked my work. I didn't have the control or flair that was necessary to create something that didn't look childish.
~Jeff Kinney






Link:

I think the most satisfying part about filmmaking is seeing a production in full bloom. When I write, I write in isolation.
~Jeff Kinney






Link:

Many of Judy Blume's books - which I devoured when I was growing up and where I found characters that were believable because they were a lot like me - caused considerable consternation when they were first published, but now they're widely accepted as an essential part of the children's literary canon.
~Jeff Kinney






Link:

There are two ways to look at my publishing career. One is that I'm a novelist churning out books, who is eight into a series; the other way is that I'm a cartoonist, just starting out. Most cartoonists have long careers: Charles Schulz drew Peanuts for 50 years.
~Jeff Kinney






Link:

Kids and adults have a difference of opinion when it comes to what constitutes legitimate reading. Adults often push books that they loved as children, which, ironically, were often books that their parents weren't particularly keen on.
~Jeff Kinney






Link:

If I were put into a college lecture hall right now and told to pay attention for 45 minutes, it would be physically impossible for me to do. I'm one of those people who believe that ADD is a gift. It's tough to manage, but if you can harness it you can do great things.
~Jeff Kinney






Link: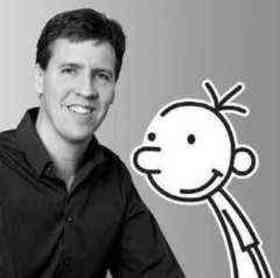 Find Jeff Kinney on Ebay!
Share:
Permalink:

Browse: