Quotations and aphorisms by
James Corden

:

I've not met a soul who wants to see The Wanted over One Direction. The thirst for those boys is insane.
~James Corden






Link:

There is really no one who hasn't made mistakes in their career. I'm always shocked that people would be so surprised that I might make mistakes. Martin Scorsese has made mistakes - why can't I?
~James Corden






Link:

There were a couple of years where I got a bit lost - I went out too much, I was a bit heartbroken, thought I was a bit more of a dude than I really was. I would love to go back and have a strong word with myself.
~James Corden






Link:

I love 'Jerry Maguire.' I absolutely love it.
~James Corden






Link:

Nobody tells you when success comes around; in its transient way, you're just working and exhausted all the time. Sometimes I think I'm just sleeping in the back of cars, d'you know what I mean?
~James Corden






Link:

Look at bread, and see it as a Dairy Milk Cadbury's chocolate bar, and say to yourself, 'OK, you don't need that.' Bread is bad.
~James Corden






Link:

You can't make anything without making mistakes, do you know what I mean? Robert De Niro's in the 'Rocky and Bullwinkle' film. There's a lot of far greater people than me who have made mistakes in their careers... There's loads of people who have made stuff that isn't good and never get asked about it.
~James Corden






Link:

I'm very proud of 'Gavin and Stacey,' but I think I have to write something else even to start to consider myself a writer. Just because you do something once, it doesn't mean that's who you are. I played football last night; it doesn't mean I'm a footballer.
~James Corden






Link:

I'm not sure people even think of me as an actor at all.
~James Corden






Link:

On stage, you have to have incredible confidence, or you would stop doing it. But I don't think I will ever get to the point where I go, 'I know exactly what I am doing,' and I don't think I want to.
~James Corden






Link:

The only thing I know is that no one ever sat in a therapist's or a psychiatrist's room saying, 'My parents just loved me too much.' The only thing you can do is love them and be around. Kids don't really care what your car is like or how big their house is. All they really care about is that you are around.
~James Corden






Link:

Louis Tomlinson, who is a member of One Direction, his mum was a chaperone on 'Fat Friends.' So Louis used to come to the set with his mum, and since I was the only sort of young person around, we would kick a football around, things like that.
~James Corden






Link:

I do a mean beef Wellington. Gordon Ramsay's is a phenomenal recipe. But that's a lot of prep. The secret to wrap it in Parma ham before wrapping in pastry. I'm so pro smuggling more meat in.
~James Corden






Link:

I guess I have a faith. I have an overriding feeling that all of this can't be for nothing. But then I also fully understand that it might be.
~James Corden






Link:

I've never seen the film 'Gulliver's Travels' - and I'm in it.
~James Corden






Link:

When the 'Guardian' is commissioning writers to write obituary pieces about you and your career... it doesn't get much nastier than that. And you've just got to go, 'It doesn't actually matter.'
~James Corden






Link:

I'd love to have written a film and it to be regarded as good. I'd just like to be doing things that are good, really. I think that's all you can aim for. I find it odd when actors say they just want to do films or plays or television. A lot of films aren't very good; a lot of television isn't very good; a lot of plays aren't very good.
~James Corden






Link:

Going to America is the best prize, so fingers crossed it will work out on Broadway.
~James Corden






Link:

When I look back at the church I grew up in, I realise that nothing about its behaviour was very Christian. It was just a social club on Sundays where people would meet up with their mates.
~James Corden






Link:

No one could have predicted on day one of rehearsals, that a year and a half later we would have shot a film and all be living in New York. It was surreal.
~James Corden






Link:

I don't consider myself to be incredibly confident, or really lacking in confidence. When you're on Jonathan Ross' or Graham Norton's show, inevitably there's something to sell. And there's a live audience; you're sat between Cameron Diaz and Tinie Tempah - I don't really see it as 'me.' It would be odd if it was.
~James Corden






Link:

'Lesbian Vampire Killers' was quite embarrassing.
~James Corden






Link:

You can either hope and pray you don't get picked on, or you can, in a way, almost make yourself a bigger target, because it's harder to bully something that's really big. It's easy to bully something that's small and frail.
~James Corden






Link:

Oh my God, I never really tweet, but there's a moment every day I write one and then delete it.
~James Corden






Link:

I was always the kid at school who thought it was a good idea to set off the fire alarm. And much as I'm aware that that's a trait which also propels other things which are good, I wish I could just pause and go, 'Is this really what you want to do?'
~James Corden






Link:

This arrogance thing... I've had that my whole life. I flip between, 'Oh really? Oh, thank you. Wow. That's amazing' and, 'Yeah! Of course I am.' They're both varying degrees of a self-defence mechanism. It can be from minute to minute that I change.
~James Corden






Link:

I went through a stage of wearing quite lairy trainers. I had all these trainers in gold or pink or silver. I look at them now in the cupboard - what was I thinking? Such an awful idea.
~James Corden






Link:

I don't care about awards and all the attention being a 'celebrity' gets you. It's just part of the job.
~James Corden






Link:

It's a strange thing, this idea that for some reason, if a lot of people like what you're doing, it's therefore not very good. We use the phrase that a band have 'sold out.' Just so you know, if you're doing a gig and you sell all your tickets, that is a brilliant thing to do.
~James Corden






Link:

There's a difference between wanting to appear confident and actually feeling confident. I think there have been many times when I've overcompensated for how nervous or out of place I feel. I was like that at school.
~James Corden






Link:

BBC3 even started their biggest shows, like Jack Whitehall's 'Bad Education,' they premiered on the iPlayer a week before it went on TV. I think it should always be at the forefront of what is fresh and exciting, and therefore it should be the first channel to exist online.
~James Corden






Link:

The truth of why I used to listen to Arrested Development on my Walkman was because if I didn't, it would take me 20 minutes to walk to school. If I did, it took me 15. That's the reason I loved it. I just had more of a kick in my step, more of a bounce, so I'd walk quicker.
~James Corden






Link:

I knew acting was what I wanted to do. I don't know if I was brilliant at it, but when I was doing school plays, I loved it so much I didn't want it to end. I feel like I'm exactly the same as when I was doing plays at school, to be honest.
~James Corden






Link:

I want to act, I want to write, and I need to follow good directors.
~James Corden






Link:

I feel a bit like when we came through the doors on the first day of rehearsals of that play, from that minute on, my whole life changed.
~James Corden






Link:

It is hard because I love Cornettos, so that will always be a weakness, and I've realised that bread is my nemesis. I believe bread has been sent to destroy me to the core.
~James Corden






Link:

It's a tough one for me, politics. I grew up in a house where my father is a Christian book salesman and a Tory, and my mum's a social worker. So I can always see the benefits of both arguments.
~James Corden






Link:

There's nothing nicer than getting a round of applause for turning up for work. It's amazing! You start work, and people clap. Do you know what I mean? And then they stand up and clap at the end.
~James Corden






Link:

I love hard work. 'One Man, Two Guvnors' was so physically tiring I ached all the time, but I took a massive amount of pride in the fact that I only ever missed two shows.
~James Corden






Link:

People say: 'Oh, but would you be happy for your show to go on BBC3 if it was just online?' If I was sat here telling you I had just signed a huge deal with Netflix you'd be going: 'Wow, that's amazing.' You can't see it as 'Oh, it's no longer a channel because it's not on TV.'
~James Corden






Link:

I wish I didn't like sweets as much as I do. I wish I didn't get carried away sometimes.
~James Corden






Link:

It's enough now of being unhealthy. I have a family, and I owe it to them to be as healthy as I can. A great sense of clarity comes when you have a child. It shows the important stuff to be important.
~James Corden






Link:

What's important is the work that you're doing, not the country that you're in. I would much rather be in a play at the Royal Court than in Los Angeles making 'Alvin and the Chipmunks: The Squeakquel.'
~James Corden






Link:

I think everyone at school experiences some form of bullying. With kids at school, it can be anything - it can be your shoes or the wrong bag or anything. If you are big like I am, you are always going to be a target. So I decided at school to make myself an even bigger target, if you like: to make myself as big as I could be.
~James Corden






Link:

I haven't always voted for the same party, mostly because I find that strange. One thing I've never quite understood is when people say 'I'm a Conservative' or 'I'm Labour,' before even hearing what the person running stands for or wants to change.
~James Corden






Link:

I saw Boy George looking amazing, absolutely unbelievable, and messaged him asking for the number of his nutritionist. I got in touch with her, and she put me on this diet plan, working out which foods do and don't suit me. It's not rocket science - basically, don't eat cake, don't eat bread.
~James Corden






Link:

I sometimes have an over-confidence that can be viewed as arrogance.
~James Corden






Link:

My biggest tip is this... treat bread like chocolate. You wouldn't have a chocolate bar in the morning and then a double chocolate bar at lunch and then some chocolate before dinner. I was essentially eating a loaf of bread a day. And that doesn't work for me.
~James Corden






Link:

I want to be Gary Barlow and peak when I'm 40. That's my plan - he's who I'm modeling myself on. Most people are completely beautiful when they're young, and then there's always a point when they get older where they say: 'Oh, what happened?!'
~James Corden






Link: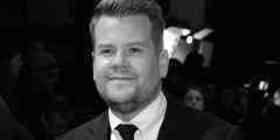 Find James Corden on Ebay!
Share:
Permalink:

Browse: