Quotations and aphorisms by
Genelia D'Souza

:

I don't see a difference between the big screen and the small one. We are entertainers, and the medium doesn't matter.
~Genelia D'Souza






Link:

Considering the regular use of make-up and the fact that I'm under the glare of the harsh shooting lights practically all the time, I'm adamant about using really strong cleansing milk to get the make-up off my skin, and I never sleep with make-up on, however tired I am.
~Genelia D'Souza






Link:

When in doubt, always opt for going naturel rather than hiding your skin under foundation and such. Line your eyes with kohl and mascara, put on some bright lip gloss and pinch your cheeks a little bit to get them all flushed and bright!
~Genelia D'Souza






Link:

I'm a fast and impatient dresser, so I can't dress myself up for too long. I don't even need a lot of makeup, so I'm usually ready in about half an hour.
~Genelia D'Souza






Link:

Every role I do is a dream role for me because I can't imagine I'm doing it.
~Genelia D'Souza






Link:

No doubt, my role in 'Urumi' has been one of my best so far. It surprised me as an actor and made me more confident.
~Genelia D'Souza






Link:

When it comes to make-up, I usually go au natural most of the time and opt for a basic blush, lip gloss and kohl for a day look.
~Genelia D'Souza






Link:

As far as my projects are concerned, I have always maintained a healthy balance. My south Indian projects have never taken a backseat even though I've been busy in Hindi. Both regions have loved me, and being wanted by both the north and south film industries is a compliment by itself.
~Genelia D'Souza






Link:

I'm an athlete, so I can get up one day and run and it wouldn't bother me. I don't get the time because I work for long hours every day. Being constantly on the move itself helps me stay fit. I don't go to a gym. I use the stairs, not the lift. I'm not into fitness, but I feel I should start, as it's healthy.
~Genelia D'Souza






Link:

There is a general notion that playing a bubbly girl is undemanding and less challenging. But that's not the case. You need oodles of energy to bring out the spirit of a lively character. Besides, no two bubbly girls are the same. Every character I have played is different from the other. I love being chosen for such lively roles.
~Genelia D'Souza






Link:

What a lot of people don't realise is that damage to hair starts from washing your hair in a rush and not taking all the product out such as leave-in conditioners. So I always make sure that I cleanse my hair properly and get the shampoo and conditioner completely out.
~Genelia D'Souza






Link:

At home, a T-shirt and something loose like harem pants would do. If I'm stepping out, a pair of blue jeans and a white tee are just fine.
~Genelia D'Souza






Link:

Following 'Urumi,' I did get a lot of offers from Malayalam, but frankly, managing films in several industries can become a little hectic. So I decided not to take them up.
~Genelia D'Souza






Link:

I eat egg whites a lot. Aside from that, I eat everything. I try to avoid too much oily food, but I do eat carbs. I have to have a balanced diet.
~Genelia D'Souza






Link: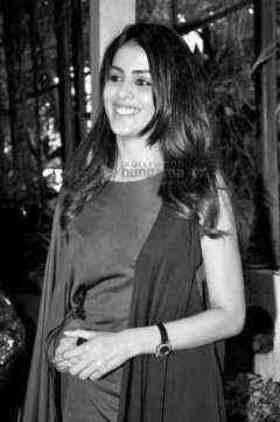 Find Genelia D'Souza on Ebay!
Share:
Permalink:

Browse: