Quotations and aphorisms by
Francia Raisa

:

I still have a lot of my friends from high school. You just know who is there for you for real, and who is trying to get something out of you.
~Francia Raisa






Link:

My eyelashes are divas, so they will like a mascara brand one week or for a month, and then they'll just stop working for it. I go back and forth between Maybelline and Cover Girl, and then I carry around a primer, too.
~Francia Raisa






Link:

I love Clinique. Their moisturizer is amazing. My skin tends to be really oily, but then at times I'm dry, and that's the perfect amount of moisturizer.
~Francia Raisa






Link:

I really like Neutrogena for skin care and CoverGirl makeup. I can't stand heavy makeup. I feel like my skin can't breathe, and CoverGirl is really light.
~Francia Raisa






Link:

Even though I'm Hispanic, I'm so white.
~Francia Raisa






Link:

Find a type of exercise that you love - whether it's dance, soccer, softball, anything - just as long as it keeps you active. If you love it, you'll dedicate yourself to it and stay involved.
~Francia Raisa






Link:

I like to carry a concealer palette that has a green, a yellow, and a tan color. I like to carry the green one because when I have a pimple, it's good to use that to contrast the red. Then you put the yellow over it, and it helps it disappear.
~Francia Raisa






Link:

I was a dancer when I got discovered, and I started working immediately. I started being in commercials and doing guest star roles. My first big thing, which happened maybe six months after being discovered, was 'Bring It On: All or Nothing.'
~Francia Raisa






Link:

It was hard at school because, growing up, some people wanted to be friends with me just because they wanted to get to my dad and say that they had met him and had gone to our house. I didn't understand it at the time, but the older I got and the more aware of it I became, it started becoming hard.
~Francia Raisa






Link:

I'm glad I went through all the normal teenage dramas that a lot of people go through. I can really relate to 'Secret Life' because I witnessed those similar struggles.
~Francia Raisa






Link: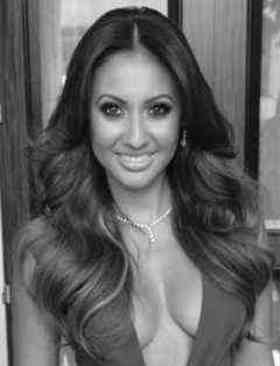 Find Francia Raisa on Ebay!
Share:
Permalink:

Browse: