Quotations and aphorisms by
Eugene Levy

:

At the end of the day, the numbers that we're hearing are not going to be totally correct or not correct at all.
~Eugene Levy






Link:

But I've never really done anything that implies any kind of danger. I wouldn't skydive, I wouldn't deep sea dive, I wouldn't parachute. I think you're really just rolling the dice. Who packed your chute the night before?
~Eugene Levy






Link:

I'm not a joke guy; I'm not a stand-up comic.
~Eugene Levy






Link:

I love comedy. Playing the underdog, and getting the laughs is my form of entertainment. I could think of nothing different that I would want to be doing at this time in my life.
~Eugene Levy






Link:

This was more of a cartoonish thing for me and it kind of took me back to SCTV, in a way, where the characters are just a little broader and you can have that kind of fun going a little over the edge.
~Eugene Levy






Link:

We went through all the scenes and they became kind of funny and they expanded a little bit and because it seemed to be working so well in the movie, they added a couple of things later on in the movie and that's how it turned out.
~Eugene Levy






Link:

One of the biggest misconceptions about me is that I'm a comedian, which I'm not. A comedian is someone who can stand up in front of an audience and make you laugh. I've never done stand-up and I never will. I'm a comic actor. My comedy comes through my characters.
~Eugene Levy






Link:

I think I'm the only actor in the history of film who got to slap Sam Jackson on the face and butt and lived to tell about it.
~Eugene Levy






Link:

I don't believe I've ever played a hip dude. I don't think I would have the wherewithal to do that.
~Eugene Levy






Link:

The greatest thing about doing this movie was that Chris and I both were involved in folk music in the '60s. I had a group, but I don't think it was at the same level as Chris, because he's an amazing musician.
~Eugene Levy






Link:

I can't do comedy that is cutting and vicious. If I knew I'd said something that was going to make someone feel bad, well, that supersedes everything.
~Eugene Levy






Link:

I like to have a regimen. I don't like to be fancy free.
~Eugene Levy






Link:

In ten minutes, I'm thinking, 'OK, you know what? I love these guys. They're really smart, they're really good, they've got a good sense of comedy, under their guidance, I think maybe this could come out OK.' But I didn't like the part.
~Eugene Levy






Link:

At the end of the day, even if my part is a bit goofy, the key thing is that I'm doing what I love to do, and that's to make people laugh.
~Eugene Levy






Link:

I would love to work with Sir Anthony Hopkins. How and why that would happen in a comedy I'm not sure - why he would be dragged over to my side, or I'd be be dragged over to his side.
~Eugene Levy






Link:

I am the common man. I'm polite, I love my family and I play by the rules. And sometimes I get pushed around. That's my lifestyle, and that's what I try to bring to characters.
~Eugene Levy






Link:

I really enjoyed working on 'Dumb & Dumberer' with Cheri Oteri, maybe because we are both into improvisations. We were meant to act together.
~Eugene Levy






Link: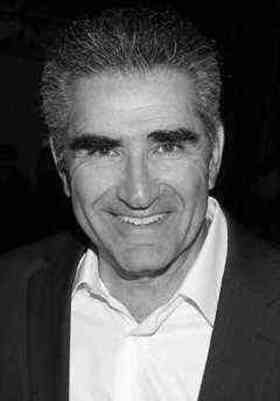 Find Eugene Levy on Ebay!
Share:
Permalink:

Browse: