Quotations and aphorisms by
Esther Rolle

:

I'm not so in love with material things that I'll do anything for money. That allows me the luxury of doing things of value.
~Esther Rolle






Link:

I ruffle a lot of feathers. And I'm also selective - that makes you a troublemaker. But so be it. I laid a cornerstone for black actors, and that makes me happy.
~Esther Rolle






Link:

I'm glad to take on the role of a domestic because many of your black leaders, your educators, your professionals came from domestic parents who made sacrifices to see that their children didn't go through what they did.
~Esther Rolle






Link:

I had a wonderful father, and I couldn't bear that television virtually ignored black fathers.
~Esther Rolle






Link:

'Hollywood maids' are so idiotic. They grin at everything. I told Norman Lear I didn't want to play a maid because of that 'hee-hee/grin-grin' attitude, and he said, 'Who said I wanted that?' He told me he wanted two strong women that are the black and white of the same coin. I said, 'Oh, well - in that case, I'll be right there!'
~Esther Rolle






Link:

I don't play Hollywood maids, the hee-hee kind of people who are so in love with their madam's children they have no time for their own.
~Esther Rolle






Link:

My mother grew up with each of her children - whatever your age, that's the age she'd be when she listened to your stories. She never belittled our problems. It made for something permanent and reliable.
~Esther Rolle






Link:

We feel we have to put concrete on every inch of land. It disturbs the ecology, and it takes away the experience of a child going out into the woods and seeing all of nature.
~Esther Rolle






Link:

I don't take roles I can't respect. If I can't find a reason to be respectful of the character, I won't do it because I couldn't do it justice.
~Esther Rolle






Link: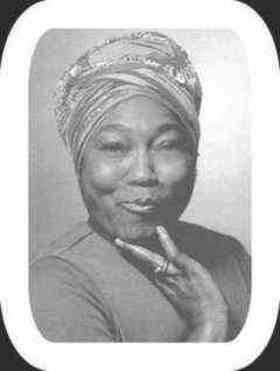 Find Esther Rolle on Ebay!
Share:
Permalink:

Browse: