Quotations and aphorisms by
Erland Josephson

:

I can remember the moment when I suddenly felt that the camera was a living partner. I suddenly felt this is art, and the camera is a co-operative living person. After that I was extremely happy to act in films.
~Erland Josephson






Link:

Stage acting is for me the basic form of acting. If you make films all the time, you have so few possibilities to rehearse. And it's important to rehearse, because it gives you the possibility to try things which are not good!
~Erland Josephson






Link:

I am of the international upper class, the Swedish petit bourgeoisie of Jewish extraction with poor language skills, a conveyor of a few expressions and faces, with some intonation that combines ancient human experience with timely coquetry.
~Erland Josephson






Link:

I very often get that question: 'What is your real profession?' That's because in Sweden, it is 'not allowed' to have more than one profession - there's something suspicious about it! But nowadays it's more accepted that one can do a lot of things.
~Erland Josephson






Link:

Acting has a strong sensual quality that I get such a... you say 'kick' in America? It's a fantastic profession in that way.
~Erland Josephson






Link:

I'm too impatient to wait for things to happen to me. If I should be out of work for two months I would go crazy. So as soon as I'm free, I start writing. While it is necessary for me to write, I know that if I go too long without acting on the stage I don't feel well.
~Erland Josephson






Link:

I was mainly a stage actor. I found film acting mechanical, because it was so technical - there was so much technique with the lamps and the movements of the camera.
~Erland Josephson






Link:

A man obsessed with failure has succeeded better than others in portraying it.
~Erland Josephson






Link: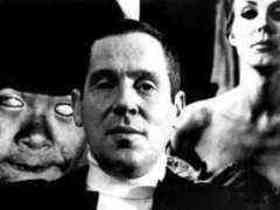 Find Erland Josephson on Ebay!
Share:
Permalink:

Browse: