Quotations and aphorisms by
Dylan Walsh

:

I kind of grew up on the East Coast, lived in New York for a while, then moved to L.A. So I'm not a New Yorker at all, but I'm much happier in New York; I've always liked it better.
~Dylan Walsh






Link:

I think it's part of your mental health to let go of things. I think if you would have it all right there, it would be a little overwhelming. I don't know how you'd have a relationship. When you have a relationship, don't two people collude to kind of forget certain things?
~Dylan Walsh






Link:

One of the great things about a TV series is that it's different to a movie - in a movie you obviously know the beginning, the middle and the end of what you're going to do. With a TV series it's unfolding, and you're discovering with every episode.
~Dylan Walsh






Link:

L.A. is so much about ratings and box office; that defines everything. And here, of course it's important, but it's not part of the culture - there's too much else going on in New York. They're not going to let one industry monopolize your attention, you know? You're likely to have best friends who are architects or newspaper reporters.
~Dylan Walsh






Link:

Yeah, my dad was in the foreign service. We lived in India, Indonesia and Africa, and we traveled a lot from those places. I was 10 when we moved back, and I felt like the odd guy out. It wasn't until later that I appreciated it. But coming back I didn't know any TV shows or music, which was even worse.
~Dylan Walsh






Link:

I grew up all around the world, and when I settled in a suburb in America, I didn't have any idea what I was supposed to wear.
~Dylan Walsh






Link:

My best moment of 2011 would definitely be the birth of my daughter six weeks ago, on September 25.
~Dylan Walsh






Link:

We've made so much headway with storytelling - mostly on cable, let's be honest - but also on the networks and, you know, I think it's about time that the leads are women. I'm not a woman, so I'm a bit biased - I wouldn't mind if a few roles were left over for men.
~Dylan Walsh






Link:

My father had wanted to name me for Dylan Thomas. He had seen him speak on one of those drunken poetry tours he did.
~Dylan Walsh






Link:

It's funny when people ask an actor what they want to play next, because you don't get to decide what you play. I don't know. I can only say this: I don't want to and have no interest in playing a plastic surgeon. That's for sure. I'm open to anything else.
~Dylan Walsh






Link: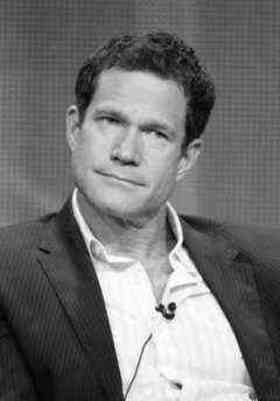 Find Dylan Walsh on Ebay!
Share:
Permalink:

Browse: