Quotations and aphorisms by
David Sax

:

Gribenes have been referred to as Jewish popcorn or kosher pork rinds. It's basically chicken skin fried in schmaltz. They're crispy and mixed with fried onions. I'm telling you, when you have it with chopped liver, it's the most incredible thing because you get this crunch and this surge of chicken flavor.
~David Sax






Link:

Nearly every industry in America, from carbon trading to bricklaying, hosts its own back-slapping awards night.
~David Sax






Link:

Who among us is so certain of our identity? Who hasn't been asked, 'What's your background?' and hesitated, even for a split second, to answer their inquisitor. Howard Jacobson's 'The Finkler Question' forces us to ask that of ourselves, and that's why it's a must read, no matter what your background.
~David Sax






Link:

Restaurant industry sales in 2011 are estimated to have reached a record high of $604 billion, up 3.6 percent from 2010. Restaurant employment grew 1.9 percent in 2011, with some 230,000 jobs added, the strongest gain in five years.
~David Sax






Link:

In 2008, Milton Sheppard opened the Waiter Training School in the Bronx, N.Y., charging $175 for courses, but the business soon ran out of money. He now operates a clown college in the same space.
~David Sax






Link:

My family's from Eastern Europe.
~David Sax






Link:

What makes a good deli is a place that, one, is generally family-owned or owned by individuals that care. Delis that are owned by large corporations tend not to have that same soul. And two, delis that make as much of their food from scratch as possible.
~David Sax






Link:

The early 1990s was a time of great advancements in precooked bacon technology. Pork producers, food labs, and agricultural schools such as Iowa State University began investing substantially in precooked R&D.
~David Sax






Link:

The Pork Marketing Board worked with advertising and marketing firms to position the pig as a sort of four-legged chicken - a healthy part of any low-fat lifestyle. The Other White Meat campaign launched in 1987 and was so successful at selling lean pork cuts, it actually hurt the rest of the pig.
~David Sax






Link:

Anytime someone orders a pastrami sandwich on white bread, somewhere a Jew dies.
~David Sax






Link:

Food trends have been around as long as people have had the ability to choose between different things to eat, but the modern, interconnected media has made food trends a viral phenomenon. Once upon a time, it was just a few newspapers and a few select gourmet magazines that were writing about food. Today, it's every single publication.
~David Sax






Link:

A Jewish deli should specialize in, first and foremost, Yiddish foods, the foods of the Eastern European Ashkenazi Jews. So, if it's a place that specializes in pizza or chicken wings or diner food and then does a corned beef sandwich on the side, it's not a Jewish delicatessen.
~David Sax






Link:

Charity fundraisers are nothing new to me. In the past, I have taken part in ski races for hospitals, walks for breast cancer, and long distance bike rides for geriatric care.
~David Sax






Link:

At the height of the first great dot-com boom, Craig Kanarick, then in his early 30s, was running Razorfish, a Web design firm he'd co-founded with an old friend, which at its peak had 2,300 employees in nine countries.
~David Sax






Link:

Though sporting a hideous mustache is in no way comparable to the physical pain and mental suffering men with these diseases endure, Movember still forces participants to challenge their manhood on a daily basis. Growing a moustache for men's cancer isn't as feel-good an activity as running a marathon for a cure.
~David Sax






Link:

Food trends don't just drive the obvious things, like cupcakes or cronuts, but something as elemental as your daily cup of coffee. The way you have that coffee now is probably very different from the way you had it ten years ago, and it'll probably be very different in ten years. That has a huge impact, culturally and economically.
~David Sax






Link:

Bacon has been a staple of the American diet since the first European settlers, but until recently, it was consumed in a predictable, seasonal pattern. The bulk of sales came from home consumers, diners, and pancake houses, which fried it up along with eggs for breakfast.
~David Sax






Link:

Think of the sushi trend that started in the '80s. It was as much about the Nintendo entertainment system in your living room as it was about the availability of good-quality raw fish. The Japanese food trend rose as the world of Japanese business and culture was becoming a bigger part of American life.
~David Sax






Link:

In 2009, novelty toymaker Maxfield & Oberton released Buckyballs, sets of curiously powerful magnetic marbles that became the most popular cubicle toy since the Rubik's Cube, selling more than 2 million units in 15 countries.
~David Sax






Link:

Unlike in Europe, where serving is often a career rather than a backup plan, American table-waiting remains a bootstrap business, and some of the biggest skeptics of waiter training courses and schools are seasoned servers themselves.
~David Sax






Link:

Detroit is a great deli city. If only GM could learn from what the delis in Detroit are doing! The best rye bread anywhere - double-baked, crispy, warm rye that they serve their sandwiches with - and great corned beef. It's a passionate deli town.
~David Sax






Link:

I have been growing this moustache, a budding Burt Reynolds number, for a good cause known as Movember.
~David Sax






Link:

Food is entertainment now. People tune into 'Top Chef,' and they're not trying to replicate the recipes. Anthony Bourdain is entertainment. Instagramming your dishes is entertainment.
~David Sax






Link:

Waiter trainers claim that an investment in education pays off very quickly for restaurants.
~David Sax






Link: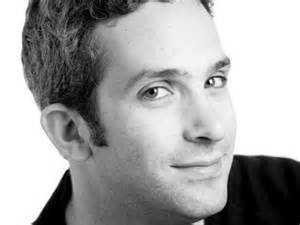 Find David Sax on Ebay!
Share:
Permalink:

Browse: