Quotations and aphorisms by
Cristina Henriquez

:

I do think all things in moderation. I mean, the thing to me - it actually doesn't bother me very much if people want to read chick lit. But it makes me, you know, sort of disheartened when that's all that people want to read.
~Cristina Henriquez






Link:

My dad is from Panama; he came to the U.S. in 1971. He came to study chemical engineering at the University of Delaware. He thought he would go back, and then he met my mom here. I was born and mostly raised in Delaware.
~Cristina Henriquez






Link:

I didn't know until high school that I was interested in writing in any real way. But there was this boy that I had a crush on, and I used to tell him all the time what I felt about him. Finally he gave me a blank journal and said to write it all down - and it didn't take me very long to realize how much I loved writing.
~Cristina Henriquez






Link:

I teach a lot of graduate creative writing classes, and on the first day, I like to go around the room and ask everybody what's the last book you've read that you really loved. And all of the women tend to give me chick lit titles. And to me, that's sort of disappointing because it's their only exposure to fiction somehow.
~Cristina Henriquez






Link:

I feel like elements of race and identity and ethnicity are sort of missing in all of literature, not just in women's literature.
~Cristina Henriquez






Link:

I used to say, read as much as you can. Now I say, read the best that you can, the stories that resonate with you, the books that are important to you. Try to read, not only as a reader, but also as a writer, to deconstruct how the author is telling his or her story.
~Cristina Henriquez






Link:

Immigration is a system and a set of policies. And immigrants are the people behind those policies and behind that system, and the human stories.
~Cristina Henriquez






Link:

Certainly, I read a lot and follow the news. But as a writer, I am not interested in a political story. I am searching for the humanity of the characters. I never set out to write a book about an 'issue.'
~Cristina Henriquez






Link:

Often, when people ask me what I read as a young girl, I lie. Or, I should say, I lie by omission. I tell them about my brilliant fourth-grade teacher, Miss Artis, who assigned us 'Johnny Tremain' and 'Where the Red Fern Grows' and 'Tuck Everlasting,' all books that made an impression on me. And people nod in approval.
~Cristina Henriquez






Link:

My mom is a translator for the school district in Delaware. She'd hear these different stories from working with families there. Those stories stuck with me.
~Cristina Henriquez






Link: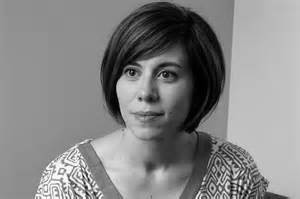 Find Cristina Henriquez on Ebay!
Share:
Permalink:

Browse: