Quotations and aphorisms by
Cliff Curtis

:

I take the responsibility of playing another ethnicity very, very seriously, and I promise myself and those people that I will represent them with as much dignity and integrity as I can muster.
~Cliff Curtis






Link:

I did a weird thing when I was about 24. For four years I had written quite a lot of poetry, and I started reading through it and thought some of it was really good. So I burnt it all.
~Cliff Curtis






Link:

My priority in life is my whanau, followed by my work as an artist, which has blessed me with the ability to provide opportunities working with others to advance the well-being of Maori.
~Cliff Curtis






Link:

I'm still waiting for Peter Jackson to let me play an elf. I want to play Orlando Bloom's father. No, Orlando Bloom's younger, hotter brother. I don't think it's going to happen.
~Cliff Curtis






Link:

I put on close to 60 pounds for 'Genesis,' an independent movie from New Zealand.
~Cliff Curtis






Link:

I was a manual labourer. I figured out really early on that the value of my life could be determined by my hourly rate as a manual labourer digging holes.
~Cliff Curtis






Link:

While I respect my cousin Annette Sykes' commitment in engaging in the political process, I do not endorse or support any political party.
~Cliff Curtis






Link:

I don't play bad guys. I think that's why I keep getting cast as bad guys: because I don't want to play bad guys. I want to play human beings that struggle with life.
~Cliff Curtis






Link:

As an actor... at some point you've got to forget that the crew's there in order to do your job.
~Cliff Curtis






Link:

People were nicer to me when I was in the arts. I experienced extreme racism in small-town New Zealand. Racism which really went away when I got into the arts.
~Cliff Curtis






Link:

I ate fantastic Italian food in Croatia, which you wouldn't expect. The food in Istanbul was amazing. I never would've expected that and the food, I guess you're learning something about me, the food in Prague, they're very, very heavy meat eaters, like, a lot of meat, which is great.
~Cliff Curtis






Link:

I believe in collaboration, which is why I work with others to make positive contributions of consequence, and why I have made a very clear and unwavering commitment to remain absolutely apolitical.
~Cliff Curtis






Link:

As an actor, you've got to have faith in the director's vision, that the director has a vision for this that is greater than the critics say.
~Cliff Curtis






Link: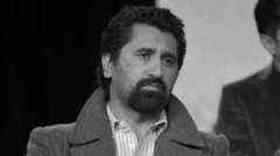 Find Cliff Curtis on Ebay!
Share:
Permalink:

Browse: