Quotations and aphorisms by
Carl Hagelin

:

There's always pressure playing in the NHL. You want to play your best game every game. Expectations are always gonna be there; it's just important that you know how to handle expectations.
~Carl Hagelin






Link:

Hair wax is my go-to. When it comes to shampoo, I use whatever is at the rink.
~Carl Hagelin






Link:

There are guys out there faster than me.
~Carl Hagelin






Link:

As a hockey player, playing for an Original Six team at Madison Square Garden, where it's packed every night, there's nothing like it.
~Carl Hagelin






Link:

Being in my best shape, my conditioning, it's something I pride myself in.
~Carl Hagelin






Link:

'Superbad' and 'Remember the Titans' - two movies I can watch over and over again. I watch 'Superbad' whenever I need to laugh.
~Carl Hagelin






Link:

I like to wear tight jeans. Most of my stuff is pretty slim fit.
~Carl Hagelin






Link:

Being surrounded by hockey, I got forced into it as a kid. I started skating when I was 4 and had a rink only 10 minutes from my home. In my town, we had one outdoor rink and one indoor rink, so you could skate all year long. I lived by a lake, too, so we did a lot of skating on the lake.
~Carl Hagelin






Link:

I went to hockey camp at Michigan because my dad has some relatives in the Ann Arbor area. We went to visit them as kids, and you start to learn the language from being around people. At the same time, when I got to college, I thought my English was better than it really was. I learned a lot over my four years.
~Carl Hagelin






Link:

You want to play in every game, and you especially don't want to be in the penalty box for five minutes and give the other team a chance to get a power play, and you don't want to hurt anyone on the other team.
~Carl Hagelin






Link:

Since we travel a lot as a team, I spend a lot of time on a plane where I like to play 'Football Manager.' I have been a soccer fan since I was 5 years old, so to be able to manage soccer teams is a lot of fun.
~Carl Hagelin






Link:

Ranger fans, they're expecting you to win, so you really want to show up every day.
~Carl Hagelin






Link:

I think I always just want to get better at whatever I'm doing... Always strive for excellence.
~Carl Hagelin






Link:

Boating on the lake is one of my favorite summer activities.
~Carl Hagelin






Link:

Growing up in Europe, tight clothing is pretty standard. When I got to college, clothes were loose, so I was going toward more loose stuff. As soon as I got back to New York, I started wearing suits 25% of the year. Then, I realized how important it is for the suit to really fit you and be tight.
~Carl Hagelin






Link:

For guys who are into fitness, I think it's important to wear slim-fit stuff that is pretty tight so they can show off the bodies they have been working hard to have. Women are going to appreciate that.
~Carl Hagelin






Link:

I never want to hurt anyone on the ice. That's not the type of player I am.
~Carl Hagelin






Link:

I had more friends on my hockey team than I did on my soccer team. I might have been better at soccer, to be honest. But I think it was more the friendship, and my family was more of a hockey family than a soccer family, so when I had to make a decision, I tried hockey, and it turned out to be a good decision.
~Carl Hagelin






Link:

As a kid, I was so short, it was tough for me to keep up with the taller guys. I always had quick feet, but I just didn't have any power, really, as a kid.
~Carl Hagelin






Link:

I love to play tennis. I play a lot in the summer. I'm not a big golfer; I need something a bit more intense.
~Carl Hagelin






Link:

When I'm in the city, I like to go to different events and get introduced to different people. That's what New York is all about. There is great diversity, and there are people from all over the world who have done amazing things. That's my favorite thing to do: meet new people.
~Carl Hagelin






Link:

In Sweden, they broadcast the American shows in English with Swedish subtitles, whereas in many European countries they dub them. Watching those shows in English was big for me.
~Carl Hagelin






Link: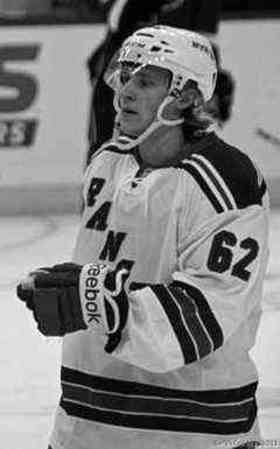 Find Carl Hagelin on Ebay!
Share:
Permalink:

Browse: