Quotations and aphorisms by
Cam Newton

:

I don't ever want to seem like I'm trying to command attention through the way I dress - but I have certainly been known to wear everything from a flamboyant suit to something very mellow and classic. I aim to just look and feel confident.
~Cam Newton






Link:

But yet I don't think I should be labeled just a black quarterback, because it's bigger things in this sport that need to be accomplished.
~Cam Newton






Link:

Because when I go places and I talk to kids and I talk to parents and I talk to athletes all over, and they look at my story and they see a person, African-American or not, they see something that they can relate to.
~Cam Newton






Link:

Most of the time, I don't really give people a chance. I have a wall up. I'm always protecting who I am. Thinking about my brand. I make it hard on people. Sometimes, it's a good thing. Sometimes, it's a bad thing.
~Cam Newton






Link:

There's not a Sunday that goes past that I'm not excited to play this game. I feel as if I'm a lucky individual to have the opportunity to play this game, and when I do have the opportunity to finally play, you can bet your last dollar I will be excited to play.
~Cam Newton






Link:

I'm an example of why people deserve second chances.
~Cam Newton






Link:

Playing this game, you cannot have nothing holding you back. If you're thinking, you're wrong automatically.
~Cam Newton






Link:

I see myself not only as a football player, but an entertainer and icon.
~Cam Newton






Link:

I said on numerous occasions how I feel about my father. I love him with all my heart.
~Cam Newton






Link:

My thing is to execute the given play, execute the game plan to the best of my ability. If the option is for me to make a play when I have to, I will. Or I'll put myself in the best situation to do so.
~Cam Newton






Link:

Winning excuses everything.
~Cam Newton






Link:

You know, I'm an African-American quarterback. That may scare a lot of people because they - they haven't seen nothing that they can compare me to.
~Cam Newton






Link:

In college, you had to worry about that math class or this exam that's coming up on Tuesday, but not in the professionals. You eat, sleep, and do everything related to your craft - and your craft is football. You can be at it from sunup to sundown.
~Cam Newton






Link:

A person that says, 'Losing is not difficult,' I don't even want to be around that person. And obviously, that person has never won anything relevant in their life.
~Cam Newton






Link:

The thing that makes the great players great, and that separates players from different players is, when you going out there whether being prepared or not, you have to react. And if you're thinking, you're already a step behind.
~Cam Newton






Link:

Music can bring about different vibes on the field, off the field, urban life, going to church, leaving church. Everything the world may bring, there's a song for it to put you in the right frame of mind.
~Cam Newton






Link:

Control what you can control. Don't lose sleep worrying about things that you don't have control over because, at the end of the day, you still won't have any control over them.
~Cam Newton






Link:

Well, I'm trilingual myself. I am, I know how to speak Spanish, English, obviously, and I speak pretty good Ebonics.
~Cam Newton






Link:

If I'm thinking about a particular injury, then I'm already a step behind. If I'm so gun shy in the pocket and not worried about the receivers that are open down field, something's going to happen that's not going to get the job done. So my main focus is having confidence in myself knowing that I'm able to be myself when I'm out there.
~Cam Newton






Link:

One day I hope to open my own day-care center. My passion for kids is through the roof.
~Cam Newton






Link:

I've said numerous times that I play to have a stage that people will listen to, and I pray to God that I do right by my influence.
~Cam Newton






Link:

I don't want to be the center of attention, which is ironic. I hate having all eyes on me - unless it's for my job, and my job is playing football. I'm not that attention-hungry.
~Cam Newton






Link:

I think for me, or for anyone who plays the quarterback position, it's almost an unspoken word when you think about leadership. Some guys can be a leader and be a running back or a lineman, or wide receiver, strong safety, or linebacker. But when you speak of quarterbacks, it's automatically a default that you're supposed to be a leader.
~Cam Newton






Link:

My dad said, 'Cam, you can make this situation a dream or you can make this situation a nightmare.' That struck a fire under me. That was my drive.
~Cam Newton






Link:

What happens when you take a lion out of the safari and try to take him to your place of residence and make him a house pet? It ain't going to happen. That's the type of person that I am. I'm that lion.
~Cam Newton






Link:

I pray for discretion every single night, that I can see through people, see what their greater good is. Sometimes that individual 'wows' you by the eye, but when it come to heart to heart, that person's not there for you. That's not just females. That may be friends, people who come into your life just to use you for who you are.
~Cam Newton






Link:

My father always wanted me to play a musical instrument, and I never had that type of skill.
~Cam Newton






Link:

I grew up trying to be like my idols, and one of the main people in my life was my father. He played football, and when your father is telling stories about the game he played... Everybody wants to be like their father.
~Cam Newton






Link:

I know when it's getting close to game time, I create a different playlist for each and every game. Before the game, to game time, to warm-ups, going to the stadium, I have a different playlist that puts me in a different mode.
~Cam Newton






Link:

I don't even want to touch on the topic of black quarterback, because I think this game is bigger than black, white or even green.
~Cam Newton






Link:

There are three or four places in the country where people think of fashion: One is L.A., obviously. Another is New York. And I think Atlanta has to be in the top five cities where fashion is very big.
~Cam Newton






Link:

I. Hate. Excuses. Excuses are a disease.
~Cam Newton






Link:

The quarterback is an extension of the coach and has a certain type of swagger mentality, on and off the field.
~Cam Newton






Link:

I have unbelievable trust in my offensive line that they will get the job done. Not only them, but the running backs and as a quarterback, I have to do my job in getting the ball in the right people's hands and doing what I do best.
~Cam Newton






Link:

My place of refuge is definitely watching movies and playing video games. I know that's kind of hard to fathom.
~Cam Newton






Link:

Word of mouth travels faster than anything else.
~Cam Newton






Link: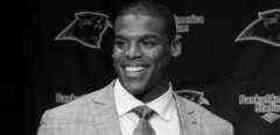 Find Cam Newton on Ebay!
Share:
Permalink:

Browse: