Quotations and aphorisms by
Boyd Holbrook

:

Sean Penn, for his acting as well as his writing and directing. There are so many actors I respect, but his reach is so wide.
~Boyd Holbrook






Link:

I was working in Lexington when I recognized this actor, Michael Shannon, and I was like, 'What do you do?' He told me to get into a theater company, so I got into a theater company near my hometown. I was a carpenter there. And then I slowly got some work.
~Boyd Holbrook






Link:

I'm country to the bone.
~Boyd Holbrook






Link:

Most difficult is the labeling by other people that models are empty-headed bodies. I think if you look for negativity, you can find it anywhere.
~Boyd Holbrook






Link:

I unloaded planes for UPS in Louisville, Kentucky. It only was bad because it was called 'Earn to Learn,' where you pay for your tuition for college, but you have to work graveyard shift - midnight to eight A.M. - and then go to school at nine or 10 A.M. I was a zombie after two semesters.
~Boyd Holbrook






Link:

When I got into high school, I got really into basketball. I had this itch that I wanted to just move. I didn't know what I wanted to do, but I knew that if basketball became a scholarship or something, it would be a means to that. It turned out I couldn't jump that high.
~Boyd Holbrook






Link:

I wrote a lot. I was in programs for drawing when I was a kid.
~Boyd Holbrook






Link:

There are all kinds of directors I want to work with and all kinds of films that I want to do.
~Boyd Holbrook






Link:

There was no theater in my high school. I think even our art program was cut - it was so bad. I didn't even know that was a possibility in college or in high school; I hadn't even thought of it. It was pretty negligent. My father has run a bulldozer all of his life, and my mom is in real estate.
~Boyd Holbrook






Link:

I wanted to be an architect. I used to draw houses and buildings and construct buildings on my own.
~Boyd Holbrook






Link:

I sort of tried to get a basketball scholarship out of high school, but that didn't happen. Then I started working for UPS, and that paid for tuition for school. I moved to a bigger town, Louisville. I did it for a year. I had to work the graveyard shift. And then you get off at eight for classes, so that sucked. Then I dropped out.
~Boyd Holbrook






Link: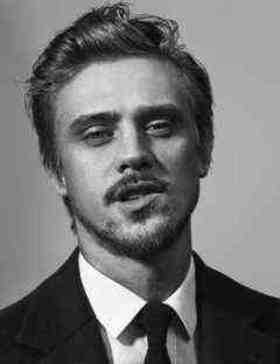 Find Boyd Holbrook on Ebay!
Share:
Permalink:

Browse: