Quotations and aphorisms by
Box Brown

:

I had been working on this series called 'Everything Dies,' and it was basically me doing non-fiction essays, responding to religion and stuff like that, and I really got into this ideas of telling factual stories via comics.
~Box Brown






Link:

When I first got into wrestling as a kid, I would read all of the wrestling magazines I could get my hands on. There was a satisfaction discovering that there was a whole wrestling world that existed that you didn't see on TV on Saturday morning. There was this idea that there was this stuff going on there that they didn't want us to see.
~Box Brown






Link:

I'm pretty interested in documentary film, and I'd watch almost anything. At some point, I stumbled upon 'shoot interviews' and found out that wrestlers were now talking openly about things that were going on in wrestling that we as viewers were not privy to. This fascinated me.
~Box Brown






Link:

I feel like there are a lot of closet wrestling fans out there.
~Box Brown






Link:

There's definitely a delicate line you have to walk in telling someone else's story that's not quite as delicate in telling your own story. I think when I'm working on a personal story, there's less pressure to try to get it exactly right.
~Box Brown






Link:

Honestly, I try to think about when I first got into wrestling, and I remember Wrestle Mania VI being the first time that I watched Wrestle Mania as it happened.
~Box Brown






Link:

I work pretty quickly. I'd probably draw somebody once or twice in pencil, then just go to ink. Not really care too much about it, and it just kind of worked out.
~Box Brown






Link:

Nobody's perfect, and everybody plays the heel and the baby face at times in real life.
~Box Brown






Link:

I'm a self trained, autodidactic artist, so all I was ever trying to do was to draw as realistically as possible - but that's what comes out, because I don't really know how to draw! I think when I draw characters, I'm able to reduce them down to little marks that capture the most distinct elements of them.
~Box Brown






Link:

I think comics is a really good way to talk about skepticism and atheism and things like that... it was easy to tell those stories and, I think, helpful to some people to tell them in comic form. Using visuals makes it easier to break stuff down and makes it somewhat easier to understand.
~Box Brown






Link:

In many ways, we all have extraordinary circumstances thrust upon us in life, and it's up to us to do the best with them.
~Box Brown






Link: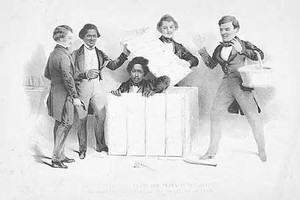 Find Box Brown on Ebay!
Share:
Permalink:

Browse: