Quotations and aphorisms by
Bonnie McKee

:

There are some artists that don't like working with other females, which is fine. They have their own thing. I personally love being surrounded by other females.
~Bonnie McKee






Link:

If I know I will be working with someone and they are not keen with writing with a girl, I like to be non-threatening and cool so they will trust me. It's a thought process of who work and how I want to present myself.
~Bonnie McKee






Link:

I've been singing since I could talk, pretty much. My dad was really musical and taught me how to sing harmonies and got me a karaoke machine with tape decks.
~Bonnie McKee






Link:

I think what it means to be an 'American Girl,' and what I wrote the song about, is our freedoms. The idea that we as Americans can be what we want to be and say what we want to say and that we take it for granted.
~Bonnie McKee






Link:

I was always super, super musical. So my parents recognized that and put me in choirs, piano lessons, and all that.
~Bonnie McKee






Link:

I've always had a teenage thread running through my music.
~Bonnie McKee






Link:

I like to think of myself as the people's pop star a little bit. I respect Lady Gaga so much, and I love what she does, but she has this kind of mysterious, out-of-reach thing. I'm just not that - as much as I'd love to have that sort of mystique, I think I'm kind of an open book.
~Bonnie McKee






Link:

I started writing my own songs from the time I was a little kid. I would write my own lyrics to other people's songs that I heard on the radio and take whatever song and make it about fairies and angels - whatever little girls sing about.
~Bonnie McKee






Link:

I saw Tina Turner do 'Proud Mary' on TV, and it was so electrifying and such a unique experience. I remember crying out of excitement, and I knew that I wanted to be a performer and make people feel excited and moved, and that's why I gravitated towards it.
~Bonnie McKee






Link:

When I moved to Seattle in fourth grade, I joined the Seattle Girls' Choir. It's a world-class choir, and we competed, toured Europe, and went and sang at the Vatican, so it was a really awesome experience to have that young.
~Bonnie McKee






Link: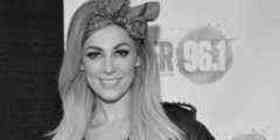 Find Bonnie McKee on Ebay!
Share:
Permalink:

Browse: