Quotations and aphorisms by
Billy Williams

:

I think I understand why baseball players today are a little standoffish, because the world has changed. You don't know who's trying to take advantage of you, what people really want.
~Billy Williams






Link:

When they told me there would be a statue erected at Wrigley Field, I was happy with that. I know there will be a meeting place for a lot of people. There will be a conversation every day. They say now, 'I'll meet you at Ernie Banks' statue.' After Sept. 7, they'll say, 'I'll meet you by Billy Williams' statue.'
~Billy Williams






Link:

The only time I mind autographs is when I'm out with my family. You're trying to enjoy kids and grandkids and here comes a swarm, and there go your wife and kids. That happens to every celebrity. It's the price you pay.
~Billy Williams






Link:

As I look out there and see the culture of baseball, a lot of blacks and Latins, it's given me a lot of joy to know that Jackie started that. If Jackie hadn't come in '47, me and Ron Santo wouldn't have played in Double-A and all those years in the big leagues.
~Billy Williams






Link:

I get double-takes at the hardware store. I've had people say, 'I didn't know you did this.' With a celebrity, if folks don't see you, they think all you do is stay in the house.
~Billy Williams






Link:

I enjoy painting, cutting the lawn and working in the garden when I have time. That's therapy for me. I enjoy working with my hands.
~Billy Williams






Link:

Mobile is a seaport town, and we ate a lot of seafood. We'd go fishing, we'd catch our fish and we'd eat our fish. It was a ritual on Saturday morning for all my family - my grandfather, my brothers, my uncles, my father - to go fishing, and then the ladies of the family would clean the fish and fry them up.
~Billy Williams






Link: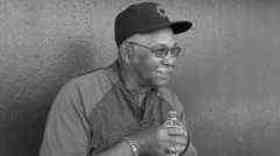 Find Billy Williams on Ebay!
Share:
Permalink:

Browse: