Quotations and aphorisms by
Bill Belichick

:

Game management, game decisions, adjustments, seeing things during games - it's all important.
~Bill Belichick






Link:

You go to the draft board and think, 'Here's a nose tackle. Who needs a nose tackle?' Well, eight teams in front of you need a nose tackle, and there's two nose tackles. It's something you have to figure out where you can get the players to play in your system.
~Bill Belichick






Link:

I can honestly say that I never 'enjoyed' our meetings, but the respect I have for Peyton Manning as a competitor was, and will likely remain, second to none.
~Bill Belichick






Link:

I grew up watching my dad scout games live. They played on Saturday. Sometimes they wouldn't get the films until Monday. Sunday air shipping from wherever the college team was located - Starkville, Mississippi, or wherever the film was coming from. It took two days.
~Bill Belichick






Link:

I think that's part of building your team is trying to anticipate where your team is going and to a certain extent where, especially defensively because you have to react to what they put on the field. Defensively you have to be able to defend those things.
~Bill Belichick






Link:

Bavaro's probably as tough of a - physically and mentally as tough a football player as I've ever coached. So, I would put him in the rare category there.
~Bill Belichick






Link: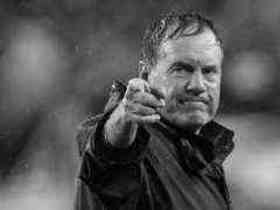 Find Bill Belichick on Ebay!
Share:
Permalink:

Browse: