Quotations and aphorisms by
Barkhad Abdi

:

I just want to keep acting and better my craft and see how far it goes.
~Barkhad Abdi






Link:

I like 'The Usual Suspects'. Great film. I also like 'Scarface', films like that. Lots of gangster films. I really like watching all kinds of films, dramas, romance. I'll watch comedies. I like Al Pacino, Robert De Niro, Denzel Washington, Chris Rock, Dave Chappelle. I'd like to meet them.
~Barkhad Abdi






Link:

I left Somalia when I was seven years old, but I witnessed a whole year in a war.
~Barkhad Abdi






Link:

I was lucky enough to have parents that took me out from country to country and go to school and learn how to be a better person.
~Barkhad Abdi






Link:

I would DJ pool parties in Minneapolis, but I never swam there!
~Barkhad Abdi






Link:

I don't see myself only as a Somali character. I think of myself as an actor, and if the job fits me and I like the story, I will go for it.
~Barkhad Abdi






Link:

I used to play football all the time. In the U.S., people don't play football, so I had to learn basketball. Looking back, that's what I like about my life - doing new things, having a new perspective.
~Barkhad Abdi






Link:

It is weird. A lot of people try to ask me political questions. I'm not a politician.
~Barkhad Abdi






Link:

I was never interested in becoming an actor. I was directing videos. I was never into acting. I was into shooting music videos. I've only ever been behind the camera. Never in front of it.
~Barkhad Abdi






Link:

What I believe will make my acting career successful going forward is hard work. I like to challenge myself. Then it's the people I meet and choosing the projects I want to work on correctly. There's a lot of characters I can play.
~Barkhad Abdi






Link:

When I was leaving Yemen to come to America, things were tough. My dad had just been laid off, and it was a challenge. When I lived in Yemen, I thought America was a perfect place. Everything was bigger and better. I dreamed big. The American dream, you know? You have to work hard for your dream to come true.
~Barkhad Abdi






Link:

When you work with a great director, you realise you are far from being a director.
~Barkhad Abdi






Link: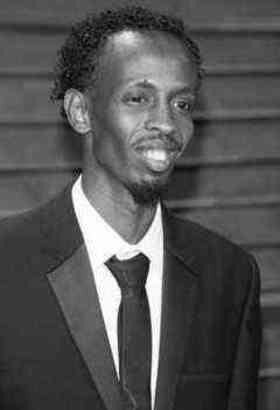 Find Barkhad Abdi on Ebay!
Share:
Permalink:

Browse: