Quotations and aphorisms by
Anne Meara

:

People never know what's going on while it's happening. You think, during the Renaissance, people called it 'The Renaissance'?
~Anne Meara






Link:

I would never presume to give anyone advice.
~Anne Meara






Link:

Families interest me - I'm part of one; most of us come from one. And I'm curious about the choices made in life, how they affect things, and how those choices happen.
~Anne Meara






Link:

My mother loved movies, and I loved movies like she loved movies. So I wanted to do that. I'd send away for movie magazines - the old thing of everybody wanting to be a star or whatever.
~Anne Meara






Link:

I started to respect older actors when I was young and then contemporary actors later on. Then I learned respect for comedy. When I was first doing theatre, I thought of it as just a means to become Sarah Bernhardt or someone like that. But acting with young people has been a great learning experience.
~Anne Meara






Link:

Growing up, I loved drama and fantasies. I hated the Marx Brothers. I took all that confusion seriously.
~Anne Meara






Link:

I love documentaries and the computer. I am a little addicted to the computer, and that relaxes me. I find information, I shop, and I look up people I worked with to find out if they're dead or alive.
~Anne Meara






Link:

I was a dedicated, boring student. The last thing I wanted was to be a comedienne.
~Anne Meara






Link:

One time I laughed so hard, I just had to go and change my pantyhose. I lost it. Lost it. At least it wasn't onstage.
~Anne Meara






Link:

I don't drink liquor, but I do like chocolate ice cream soda.
~Anne Meara






Link: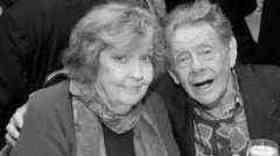 Find Anne Meara on Ebay!
Share:
Permalink:

Browse: