Quotations and aphorisms by
Andrew Dost

:

It's nice to be in a creative world that's kind of isolated, but you can get led astray down some pathway while you're recording that you might not like later. And there's a lot of time to get in your own head and stay there.
~Andrew Dost






Link:

I got a brand new flugelhorn today in this gorgeous case, it's beautiful.
~Andrew Dost






Link:

It's strange to play outdoors, especially in the daytime. But we're figuring it out. The rules are different for festival shows - how you talk to the crowd, how you can try to get them involved. Things are just a little different, and I think we've learned to adapt our show.
~Andrew Dost






Link:

I think from the very beginning with 'We Are Young,' there was never any question about where we wanted the song to go and what we wanted it to sound like. And we knew that we wanted it to be big, we wanted it to be booming over the speakers at an arena or something.
~Andrew Dost






Link:

I think a lot of nice things happen when you're driving, or when you're on a plane, or whatever. There's a certain freedom that comes along with motion.
~Andrew Dost






Link:

It's all about fair trade, and helping people eating locally grown stuff. We're recycling everything. We're trying to tour in the most conscious way possible, environmentally and socially.
~Andrew Dost






Link:

I think of a band like Animal Collective where they really follow their own sound and I think that's a really important thing to do. You can find an audience if you can find your voice.
~Andrew Dost






Link:

My dad bought a Beatles tape when I was in fifth grade, and that was the first time I ever really - I mean I was into music, but that was the first time it really blew my mind. When I heard the 'Red Compilation,' which wasn't like a proper album, I thought, 'music was more than I had ever thought it was before.'
~Andrew Dost






Link:

We're not quite mainstage material. We're more like outhouse material!
~Andrew Dost






Link:

In general, we like to play as a band - guitar, piano, and voice. We also tour with a bass player, a drummer, and somebody who plays keyboard and guitar. We try to play all of our parts and flesh it out to get a lush sound, while also keeping the energy of a three-piece punk act. We want to be the best of all possible worlds.
~Andrew Dost






Link:

What started it all was the Kanye album, 'My Beautiful Dark Twisted Fantasy.' We started listening to that and just fell in love with it, fell in love with his production style.
~Andrew Dost






Link:

I spent many years trying to write a lot like Ben Folds or John Lennon or Rivers Cuomo. I think that's healthy when you're learning to write and seeing how chords fit together and how songs take shape.
~Andrew Dost






Link:

The best pop music is the songs that a group of people can dance to, but you can also listen to in your bed and cry. That's something obviously that The Beatles started and... so having that darkness there opens another door.
~Andrew Dost






Link:

Gooseberries should be mainstream berries! Why are chemically fattened strawberries a thing? Why not the delicious gooseberry?
~Andrew Dost






Link: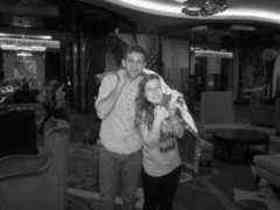 Find Andrew Dost on Ebay!
Share:
Permalink:

Browse: