Quotations and aphorisms by
Ana Ivanovic

:

I really just try to enjoy the game and hope that I can inspire young kids. I started playing tennis because of Monica Seles, and I try to promote the sport in the best possible way. Sometimes it's hard because you get upset on court, but I think in life one learns through experiences in order to evolve as a person.
~Ana Ivanovic






Link:

Fame and success and titles stay with you, but they wear out eventually. In the end, all that you are left with is your character.
~Ana Ivanovic






Link:

I like to have my privacy. I don't like people knowing what I do in my free time. I am also a very shy person, but I understand that people want to know more.
~Ana Ivanovic






Link:

I'm very proud to be a professional tennis player. I'm really happy to be doing something that I love. With this comes responsibility, and I am honored when I am told that I have inspired someone to play tennis.
~Ana Ivanovic






Link:

If I make a change to a young kid to play any sport, not only tennis, instead of spending time in front of the TV or computer, that is good. I want to give them a good example: 'Hey, go out and play and see the world.'
~Ana Ivanovic






Link:

It's important to understand that you have to dedicate time to your sponsors, to have relationships with the people and the media, but it is also hard when you are first coming up and your primary focus is on tennis.
~Ana Ivanovic






Link:

I like men who have goals, something that they are passionate about and work hard to achieve. A good sense of humor is important too. And I like tall guys!
~Ana Ivanovic






Link:

Even if I play backgammon with my coach, I hate to lose. I won't talk to him for, like, an hour. So imagine how it feels when you lose at tennis. That makes me determined not to lose because I hate it so much. Even at a set down and match point, I always believe I can come back.
~Ana Ivanovic






Link:

I'm quite an emotional person. I cry a lot. I do not like conflict, so if I have an argument with my parents, I'll often cry. I become too emotional.
~Ana Ivanovic






Link:

I won two ITF tournaments in Japan in two weeks. I had to qualify for both of them, which meant that I won 16 matches in 15 days.
~Ana Ivanovic






Link:

I like to be alone and listen to music. Every match I play, I have a tune in my head over and over. It might only be a few words or a small piece of the tune, but it can drive you mad.
~Ana Ivanovic






Link:

As a people, Serbians are very tall, and we have olive skin and dark hair, which can look very nice. You have to be very beautiful to stand out.
~Ana Ivanovic






Link:

Ever since I was a kid, I've always thought it very important to be happy inside. There's a lot of bad things happening in the world, but it's important to try to stay happy and appreciate what you've got, and don't look externally for the happiness.
~Ana Ivanovic






Link: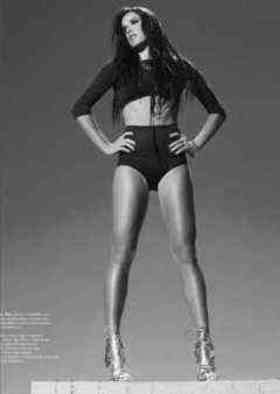 Find Ana Ivanovic on Ebay!
Share:
Permalink:

Browse: