Quotations and aphorisms by
Amanda Schull

:

I enjoyed acting growing up; I did musical theater. I had a secret desire to be a television and movie actress, but it wasn't something I admitted to myself that I wanted to do, I guess.
~Amanda Schull






Link:

I think it would be fair to say that most female dancers have dealt with, whether it's an extreme, or minor complex in eating disorders. So the first thing I would say to girls who are feeling that way is you're not alone. You're far from alone. You're the majority. There's absolutely nothing wrong with what you're feeling.
~Amanda Schull






Link:

I think that's it's really important to have good friends. Nowadays, you can text 24 hours a day and be in constant contact, but every once in a while, it's nice to just get out with your girlfriends and have fun.
~Amanda Schull






Link:

As a dancer, I know couples that have stayed married but separated to dance on different continents. Dance in general, but ballet in particular, is such a finite career. You can't do it later in life, and it's something that I think a dancer has to have some selfishness to fulfill.
~Amanda Schull






Link:

I love to work. I know that sounds ridiculous to say because all people love to work, but I love the homework that goes into acting. I love figuring out different ways of playing a scene. I love the energy of being on set. I love not getting enough sleep because I have to wake up early in the morning.
~Amanda Schull






Link:

Hollywood is something else. It's such an exaggerated idea. The concept of what 'beautiful' really is is ludicrous.
~Amanda Schull






Link:

I'm a really good cook. I bake a lot. I cook dinner most nights. I cook everything from Italian food to Mexican food. But if I'm going to some place and it's a potluck, I'm always the one to bring dessert!
~Amanda Schull






Link:

If it isn't necessary I would rather not subject my skin to too much, so if I don't have anything special to do for the day, I try not to wear any make up.
~Amanda Schull






Link:

In order to dance professionally, you have to start at a young age. No matter what, your muscle structure and your bones have to be groomed from a very young age. Nobody wakes up at 17 and decides to become a ballet dancer.
~Amanda Schull






Link:

Acting is fascinating to me. I love unlocking the mysteries with characters and finding out what would be the most intriguing aspect of that character to exist in. Figuring out a person and getting to be a different person every day, hey - that's pretty lucky. I don't have to wake up and be Amanda if I don't feel like it. You know, that's fun.
~Amanda Schull






Link:

It's hard with ballet because your aesthetic really is important. It's different from acting and from film. Nobody wants to watch somebody who is sickly thin. And it's interesting because I have danced with people who are ill, have eating disorders, and a light goes off within them.
~Amanda Schull






Link:

I think people don't often realize how much goes into being a male dancer. It's athletic and it's hard. It's not just men wearing tights, or wanting to be around women.
~Amanda Schull






Link:

What a person feels within themselves and about themselves radiates from them. Trust me, I have worked with people - both men and women - who are not what most would consider conventionally attractive, but who exude such a magnetism about them that people are compelled to watch them on stage or screen.
~Amanda Schull






Link:

Every dancer has injuries, and your injury could happen that season that you were getting that one part that you've wanted to do your whole career. So you have to appreciate every single moment until it happens.
~Amanda Schull






Link:

In high school ethics, they went around and asked what everyone thought their classmates were qualified to do. For me, everyone said actress. But to me it was very much 'if it happens, it happens.'
~Amanda Schull






Link:

A lot of professional dancers become professional when they turn 15 or 16 years old, when they're still children. So you've trained every single waking moment up until that point for a career that could maybe only last 10 years, maybe longer if your body holds up, if your injuries are kept at bay.
~Amanda Schull






Link:

There's always going to be somebody that you consider maybe more beautiful. But nine times out of ten here in L.A., that beauty isn't home grown. It's usually manufactured. It sort of encourages me to work more within myself because I think that's not what appeals to me. Plastic and tons of makeup.
~Amanda Schull






Link:

Acting for screen is very different from acting on stage, and then obviously when you dance... everything is a physical embodiment. But the discipline is the same approach. You have to take both things seriously; nothing well-crafted is by mistake.
~Amanda Schull






Link:

I take ballet class as often as possible - up to 5 times a week - and try to go to the gym on the days that I don't take class. I also do a floor barre/Pilates mat class almost everyday.
~Amanda Schull






Link:

The worst beauty advice that I have ever taken has been from people who have told me that sunscreen isn't necessary. Not true!
~Amanda Schull






Link: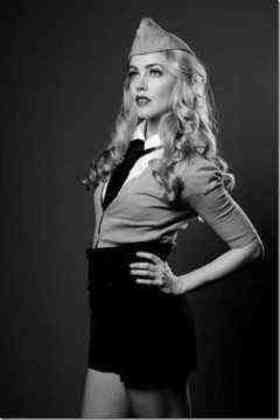 Find Amanda Schull on Ebay!
Share:
Permalink:

Browse: