Quotations and aphorisms by
Amanda Plummer

:

I prefer theater, but I love to do films, and I prefer theater primarily because I've done more. I know less about movies. You can't lie in either medium. The wonderful thing is that the camera, just like an audience, is made out of skin - because celluloid is skin.
~Amanda Plummer






Link:

Before college, I acted in my room, to classical music, because music tells stories. I'd put on a record and proceed, silently. I'd keep putting the needle back to a certain segment because I hadn't died well enough. I had to really, really feel dead. I'd love to do a death scene.
~Amanda Plummer






Link:

I don't find anything interesting about the choices a character faces in major films or theater projects. The characters are just cut-out dolls with the American flag sewn on them.
~Amanda Plummer






Link:

Producers generally don't like me; directors do, generally. Convincing the producers is hard. They can't see the commercial value behind such a face, nor would they get a commercial value, necessarily - and I don't mean that in a good way or a bad way.
~Amanda Plummer






Link:

I like taking a path into new country, and I always take the darker path. Not because it's dark, but because there's a secret there that you can share when you get out. That's what I liked as a kid. That's how I approach my work. With a face like mine, it's lucky I have a heart that likes that.
~Amanda Plummer






Link:

I don't play roles everybody likes. I'd rather have a career I'm proud of. Like everyone else, I need to eat. But I'm a very unbusinesslike person, and I keep my price low. I'm not a mass product. I'm not everyone's cup of tea.
~Amanda Plummer






Link:

I had a strong propensity, which I still have, to be invisible. In grade school, I'd try to disappear and become formless. I lived in a very imaginary world. I loved poetry and wrote my first novel when I was 9. It was about a little girl and the people she met in the woods.
~Amanda Plummer






Link:

I like devilish, thorny, dirty, mean roles, muck and mire, unbelievably sad, unbelievably happy, burdened. Inner conflict - that's where drama is.
~Amanda Plummer






Link: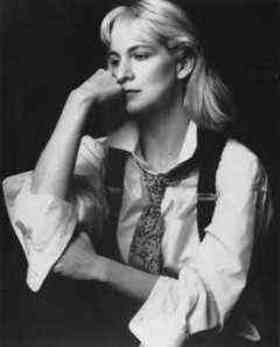 Find Amanda Plummer on Ebay!
Share:
Permalink:

Browse: