Quotations and aphorisms by
Ali Liebegott

:

When I see a room full of people pedaling away on stationary bikes, I fall into an existential spiral. It's confirmation that all we do as humans is pedal, pedal, pedal, and go nowhere. We're just specks of dust in the universe, riding 1970s stationary bicycles.
~Ali Liebegott






Link:

I don't really believe in the myth of being poor but happy. At the poorest times in my life, I wasn't happy. I was just hungry.
~Ali Liebegott






Link:

I'm a writer who stacks cat food for a living. It's true: I have a master's degree in creative writing, I've published two critically successful books, and I get paid to replenish the shelves of my local food co-op with pet food, sponges and toilet paper. Nine days out of 10, I do it quite happily.
~Ali Liebegott






Link:

Since becoming an alleged adult, I've always felt like I should exercise - or should at least want to exercise - and make a feeble attempt at health, thus staving off terrible things like the coronary heart disease and high cholesterol described to me in 1980s margarine commercials.
~Ali Liebegott






Link:

In times of uncertainty - whether it's economic, psychological, emotional, or philosophical - people often say that the only thing we can truly control is our attitudes. If that's true, then I'm going to spend today walking my 14-year-old dog on a free beach and treasuring the fact that she's still alive.
~Ali Liebegott






Link:

I'd gotten the message in my home, starting with my grandfather, that real work, the kind that makes you sweat and gets your hands dirty, is a respectable, necessary thing. But I wanted to write - and writing didn't qualify. Whenever I told my parents I dreamed of becoming a writer, they said, 'Great, but what are you going to do for work?'
~Ali Liebegott






Link:

I was the first in my family to go to college, and I waitressed all the way through, using my earnings to pay for a bachelor's degree first and then a master's. I resented classmates who didn't have to work real jobs, the ones who had the luxury of taking unpaid internships that would eventually position them for high-paying careers.
~Ali Liebegott






Link:

There's something very soothing about the simplicity of doing what's right in front of you: paying the rent, buying groceries, and when there's a little extra for a treat like cinnamon rolls, whoopee! When you live paycheck to paycheck, you only have so much to lose.
~Ali Liebegott






Link: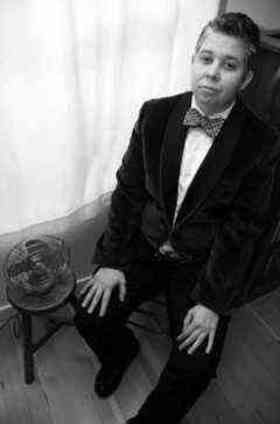 Find Ali Liebegott on Ebay!
Share:
Permalink:

Browse: