Quotations and aphorisms by
Kyle Edmund

:

My training has always been a priority; whatever needs to be done will get done first before anything else. Social life will come after that. I still love being around friends and family, but with all the travelling overseas, it makes it very tough to fit in.
~Kyle Edmund






Link:

When I was around the ages of 9, 10, and 11, I loved watching Marat Safin because I found his game exciting. Since he retired, I would say that my idol has been Andy Murray.
~Kyle Edmund






Link:

I'd be walking off the court thinking I didn't put everything out there, which was the last thing I wanted, so I just went out there and focused on my game, and it worked out great. It's nice to know I can play at that level, but to do it week in, week out is a different challenge, and I want to be able to do that.
~Kyle Edmund






Link:

In practice, there is no consequence. If you miss a ball, you just pick up another ball and serve again, or you come back the next day and play. In the matches, every point has got a consequence. If you lose, you don't come back the next day and play.
~Kyle Edmund






Link:

Training is very tough. I probably hurt and get out of breath more in training because in matches, you can hit an ace, then have 25 seconds off. In training, you're doing drills constantly.
~Kyle Edmund






Link:

The tennis calendar is incredibly long, so it's normal to go through ups and downs, and you want to keep the ups as long as possible and the downs as short as possible. You have to be realistic with what you're doing.
~Kyle Edmund






Link:

My phone is key. This is because I like listening to music, and often, not travelling with it would be a killer. I also love my bed, but unfortunately I can't travel with it, but if I could I would.
~Kyle Edmund






Link:

I like all kinds of music. On my playlist at the minute is Professor Green, Tinie Tempah, Maroon 5, Stereophonics, Jay-Z, Drake, and lots more. I always listen to music when I'm in the gym; it helps me to get pumped up.
~Kyle Edmund






Link: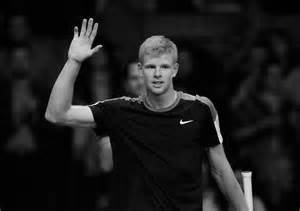 Find Kyle Edmund on Ebay!
Share:
Permalink:

Browse: