Quotations and aphorisms by
Ksenia Solo

:

It's funny because I'm so used to acting in English that any time I have these moments where I have to speak Russian, it definitely takes a different part of my brain to pull it off, but it's always nice and fun.
~Ksenia Solo






Link:

I am totally, completely, 100% in love with fashion. I would wear Chanel gowns to the grocery store if I could. I'm a huge fan of Chanel and Versace, and I actually have always dreamed of designing my own line one day.
~Ksenia Solo






Link:

I consider myself incredibly lucky to live and work in places like Canada and the U.S. where polio no longer threatens to rob the livelihoods of innocent children. As a young woman, I stand behind the women around the globe who are leading the charge against polio and working relentlessly to achieve a polio-free world.
~Ksenia Solo






Link:

I always say that I was dancing and acting in the belly. I feel like it's something I was born with and inspired by my family since I grew up backstage, watching them perform. I guess it was just a natural path for me.
~Ksenia Solo






Link:

You really have to stay true to yourself, as cheesy as that sounds. And you cannot take no for an answer, and you have to dream big. I think that's the greatest thing my family ever taught me: if you're going to dream, you have to dream so big.
~Ksenia Solo






Link:

In places like South Afghanistan, where cultural norms prevent men from entering homes, female vaccinators often make the difference between a closed or opened door.
~Ksenia Solo






Link:

'Black Swan' was absolutely unbelievable. I had always dreamed of working with Darren Aronofsky, and Natalie Portman, Winona Ryder, Barbara Hershey, Mila Kunis and Vincent Cassel. The entire cast was really a dream cast, and it was amazing to work with these powerhouse women that I've just admired for so many years.
~Ksenia Solo






Link:

I was born in Eastern Europe, in Latvia, and I'm fluent in Russian.
~Ksenia Solo






Link:

I understand the power of the Internet, but I can't say that I'm there. I'm old-fashioned and living in a different century. I don't know. I just don't really understand the craze of it.
~Ksenia Solo






Link:

My mom is actually a former prima ballerina, and all the women in my family are associated either with dance or choreography or acting, so I'm very lucky in a way because I grew up in a family of artists. I've been dancing since I was a little kid.
~Ksenia Solo






Link: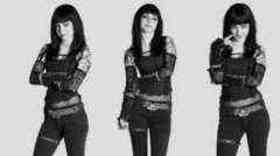 Find Ksenia Solo on Ebay!
Share:
Permalink:

Browse: