Quotations and aphorisms by
Kevin Frazier

:

If more people got involved with their local schools, if more companies donated money, a lot of the problems that are plaguing our schools and our youth would disappear.
~Kevin Frazier






Link:

Angelina Jolie, Tom Cruise, and Will Smith are hall-of-famers. When they hit the red carpet, they know exactly what they're going to do, how they're going to do it. Damn, they're good.
~Kevin Frazier






Link:

My first son Tony was born when I was only eighteen. I was a still a kid; I wasn't ready to be a dad, so he was put up for adoption and went off to live with a family that could care for him.
~Kevin Frazier






Link:

Talking through troubles, staying calm in the face of adversity, that's what my father taught me. It's an invaluable lesson because there's no shortage of adversity and mistakes to be dealt with.
~Kevin Frazier






Link:

Entertainment shows make a living on behind-the-scenes stuff that can now be doled out socially. When we see it, we're like, 'Uh oh.'
~Kevin Frazier






Link:

I love to watch 'Hoarders.' My grandmother was a hoarder. My mother's on her way. I'm an electronics hoarder - I won't throw any out. I still have my first T-Mobile Sidekick... old VCRs in my garage. It scares me that I'm going to end up being buried under electronics.
~Kevin Frazier






Link:

I really enjoy encountering a celebrity who's like, 'Let's go; you'd better have your A-game on.' You sit down with Madonna, and she's like, 'You'd better have something for me. If you're not ready to dance, I'll eat you up.'
~Kevin Frazier






Link:

I had a great bond with my father. Even when I was a kid, my bond with my dad made me want to be a father myself one day.
~Kevin Frazier






Link:

I was in the tent when Bobbi Kristina's body was lowered into the ground. Watching her grandmother and her aunt, watching these women not cry but wail - you can't divorce your feelings from some of this stuff.
~Kevin Frazier






Link:

Whether it's standing backstage with Jennifer Lopez in a dress that I know everyone will be talking about tomorrow... or being there when incredible news breaks, and instead where people sit in front of their TVs and look at it, I'm the person who goes there to bring you the story... It's amazing. It's unbelievable.
~Kevin Frazier






Link:

A lot of reporters don't have conversations - they just fire off questions. I'm going to listen to what you're saying. If you start giving me a pat answer, I'm going to challenge you. That's where my sports background helps, because athletes do it all the time. So you have to stop them... and sometimes they're going to yell back at you. So what?
~Kevin Frazier






Link: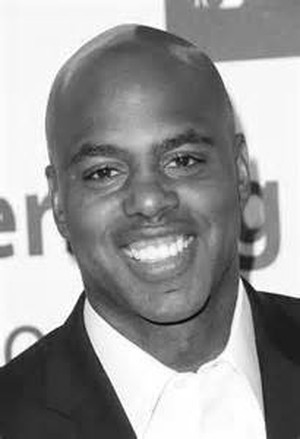 Find Kevin Frazier on Ebay!
Share:
Permalink:

Browse: