Quotations and aphorisms by
Kapil Sharma

:

My style is an extension of acting and an outcome of some serious lessons I picked up learning when I did theatre in my early days.
~Kapil Sharma






Link:

People tell me that my appearance in real life is better than on-screen. Perhaps people think I am exactly like the characters I play on TV.
~Kapil Sharma






Link:

My mother is very funny. She is from a village; she has a typical village kind of humour. Often she says a lot of things she herself isn't aware is a punch line.
~Kapil Sharma






Link:

I grew up thinking that I would become a fighter pilot and was fascinated by aircrafts as I had grown up around that. But my father encouraged me to not become an Air Force person, given the varied interests I had, be it books, movies, sports or fighter flying.
~Kapil Sharma






Link:

It was a unique childhood, to say the least. My father was born in Patiala to refugee parents and was a part of the Indian Air Force. The talented few amongst the Air Force pilots are made test pilots. Test pilots are best suited to look at the space programme as they are trained to expect the unexpected.
~Kapil Sharma






Link:

Every artist says that he/she wants to do something challenging, and I'm not any different. If someone approaches me with a serious role, I'll be more than happy.
~Kapil Sharma






Link:

The problem with feature filmmaking is that it offers you this mirage of being able to achieve perfection, as the theory of it is that you have control of every part of the film, though in reality, it is as inexact as the next thing in your life.
~Kapil Sharma






Link:

One can do a film and not work for six months, but on TV, you have to produce good content every week. It involves a lot of hard work, as one has to fight for ratings every week. But I have always got love from the audiences, be it during 'The Great Laughter Challenge' or 'Comedy Circus.'
~Kapil Sharma






Link:

I'm a fun-loving guy. We are basically from Amritsar and ours is a chilled-out family. I think I have got my humour from my mother.
~Kapil Sharma






Link:

People think I am funny all the time. But I am not. I am serious, too. Also, I enjoy serious, dramatic films.
~Kapil Sharma






Link:

I am an Air Force brat who grew up at various Air Force bases. I changed six schools in about five years and got stability for the first time when I was sent to a boarding school, Rishi Valley. I lived outside of a cantonment-style living and was among an eclectic mix of kids and got exposed to books and other things.
~Kapil Sharma






Link:

I used to do a lot of serious theatre during my school and college days. Comedy was only reserved for youth festival and inter-college competitions. Then once 'The Great Indian Laughter Challenge' was launched, a regional channel in Punjab started a program based on that. I participated in it and emerged as the winner.
~Kapil Sharma






Link:

I am always scared before going on stage; this is the fear which makes me do well.
~Kapil Sharma






Link:

People expect comedy from me but I am not just a stand-up comedian anymore. I act on stage, host 'Jhalak Dikhhla Jaa' and also conduct interviews on my show. I have grown as a person and an artiste.
~Kapil Sharma






Link: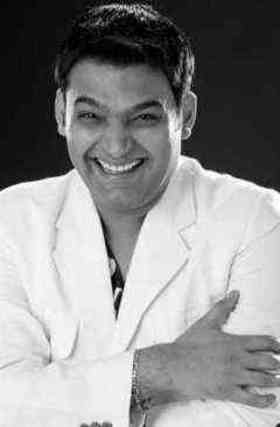 Find Kapil Sharma on Ebay!
Share:
Permalink:

Browse: