Quotations and aphorisms by
Joseph Gatt

:

I did a lot of modeling in the U.K. A lot of it wasn't high fashion because I don't have the body or the face for high fashion modeling. I did a lot of sportswear, swimwear, and beachwear.
~Joseph Gatt






Link:

I wish that every director was as interested in doing as much in camera and with physical objects as much as possible as J.J. Abrams is.
~Joseph Gatt






Link:

I have days when I go to the gym and I can't push that 315, but then I look at my video of me benching 6 reps at 315, and I know I did do that. That wasn't a dream. That wasn't some weird fantasy. So I know that next time I'll go in and I'll do that.
~Joseph Gatt






Link:

I've only ever played 'God of War' while we were shooting it. I've seen a lot of the videos, but while we were shooting 'God of War,' they had a green room for the actors to hang out in, and they always had the newest game on the big screen. So we'd sit there playing 'God of War' to get us into the mood.
~Joseph Gatt






Link:

When I first met my girlfriend, Mercy Malick, she asked me if there was anything I should tell her that could put her off me if she found out later. So I told her that I was a total 'Star Wars' geek and had boxes of 'Star Wars' toys in storage.
~Joseph Gatt






Link:

I love to listen to lots of different genres of music, but mostly movie soundtracks and music theater.
~Joseph Gatt






Link:

I think it's impossible to maintain a good, strong, muscular physique without taking some supplements. Between the protein shakes and the multivitamins that I take, I use C4, the pre-workout mix. I try to keep it as basic as I can, but I think I would shrink and disappear if I stopped taking protein shakes.
~Joseph Gatt






Link:

My favorite comic book growing up was 'Thor.' It was one of my three, favorite comic books. Obviously, Marvel is such a huge name, but for me, to book a role in a Marvel movie, and for it to be 'Thor.' When my manager told me I booked 'Thor,' I literally didn't know what to say.
~Joseph Gatt






Link:

Yep, I'm a geek. Ever since I got the Millennium Falcon for Christmas in 1978. And I still have it, in perfect condition, just without the box... but I still play with it!
~Joseph Gatt






Link:

My favorite part about working in theater is the rehearsal process. I absolutely love the rehearsal process. Working out the characters, figuring the character out, and the relationships between the different characters. I love all of that, which, unfortunately in film, you get very little opportunity to have.
~Joseph Gatt






Link:

Drama school was the first place I learned that looks can affect your career. It was very horrible at the time. I had a lot of very bad experiences at drama school because of that, from the teachers and the students. In the end, I think it was good for me because it hardened me to the realities of the business early on.
~Joseph Gatt






Link:

I never coast through a workout. This is been great for me physically, but it's also become a problem in two ways. One is that no matter how I'm feeling on a given day, I will absolutely kill myself in the gym, and it takes a huge amount of energy do that. I commit 110 percent. The other problem is that finding a workout partner is impossible.
~Joseph Gatt






Link: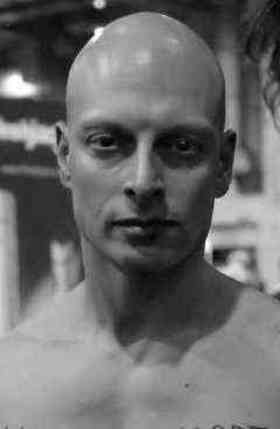 Find Joseph Gatt on Ebay!
Share:
Permalink:

Browse: