Quotations and aphorisms by
John Niven

:

I am, it is safe to say, not a practical man. The few attempts I've made to hammer in a nail have ended in broken thumbs, burst pipes, and water spraying everywhere with the house on fire.
~John Niven






Link:

The mechanic could lift up the bonnet of the car and show me four dwarves strapped to a pair of tandems and tell me that the motor was actually dwarf-powered and that one of the little fellows had to be replaced, and I'd just be numbly writing out a cheque and scribbling 'new dwarf - car' on the stub.
~John Niven






Link:

I do find the sight of small children eating very moving. Watch the way their tiny fingers clamp the cutlery. The exaggeratedly precise way they move cups or glasses to their lips.
~John Niven






Link:

I've forgotten the birthdays of everyone close to me. I have forgotten to pay bills, file tax returns on time, go to meetings, and, every week, I forget to put the bins out. But I have never forgotten I want my lunch.
~John Niven






Link:

The Clash were the first big love of my life. Lyrically, they inspired me to get out, explore life, and maybe kick some doors down.
~John Niven






Link:

Certainly in the case of 'Kill Your Friends,' a book I wrote more than 10 years ago, I routinely meet interviewers who appear to know the book better than I do. But still, you have to talk about it.
~John Niven






Link:

The Clash had a unique, special relationship with Scotland. Perhaps it was something to do with the energy, anger and beauty in their music. In Scotland at that time, there was a lot of to be angry about. And a great need of some energy and beauty.
~John Niven






Link:

Among the Internet's many gains for humanity, decreasing paranoia has not been one of them. Anything from that lump under your armpit to what's lurking in the sea - just type it into a search engine and watch your nerves explode.
~John Niven






Link:

I love my children and care greatly for their future. If they decide they just want to loaf around for a bit between the ages of 16 and 25, that's perfectly fine by me. I did it, and I'm doing fine, thanks. Sometimes 'leaving kids to their own devices' is the best thing for them.
~John Niven






Link:

There are precedents for what happens when societies allow the divide between rich and poor to get so huge that it stops being funny and starts becoming a sick, blood-boiling joke. If you had a Tardis, you could go back to 1917 and ask the Russian royal family how it was all going.
~John Niven






Link:

It wasn't until my teenage years that a book really left a mark, and that was George Orwell's 'Nineteen Eighty-Four.' It was on the syllabus at school when I was about 16, and I went on to read more of his books. It was the height of the Cold War, so a lot of the messages really resonated at the time.
~John Niven






Link:

My family went to Toronto to visit relatives when I was 13 or 14. It was the first time we had ever been abroad. This was the early Eighties, and I remember the impossible glamour of air travel - my mum spending days trying to decide what she was going to wear on the plane.
~John Niven






Link:

Future generations of economists will look at the trickle-down theory in much the same way we now look at witch burning, slavery, and the Sinclair C5.
~John Niven






Link:

I am very fortunate. I am a glass-half-full eternal optimist type to the point of being a moron. But I would never presume to know how hard it goes for others. How, for some people, just getting though the day is an incredible effort that can hardly be borne.
~John Niven






Link:

I'm something of a black belt at break-ups. I have had two long-term relationships in my life, both of 10 years, both resulting in children, and both very much over. Things end. It is how you manage them being over that's key.
~John Niven






Link:

There is a psychic cost children bear when they grow up in fear.
~John Niven






Link:

In your teens and twenties, death doesn't exist. In your thirties, you glance down the road occasionally. But then in your forties, it becomes a full-time job looking the other way.
~John Niven






Link:

It has always been more expensive for the poor to borrow money. We see this in everything from mortgage rates to credit cards.
~John Niven






Link:

I can still remember my mum (a voracious, if not discriminating, reader - I have seen everything from the sublime to the ridiculous by her bed, from Ian Rankin and Elmore Leonard to Barbara Cartland and James Patterson) taking me to get my library card when I was four and not yet at school.
~John Niven






Link:

There are some sentences you cannot see yourself ever writing. 'I heartily endorse the Conservative Party' would be one. 'I look forward to Justin Bieber's new record' would be another.
~John Niven






Link:

A novel, of course, is a fully self-contained work of art. You pick it up off the shelf, open it, and there it is - a whole universe waiting for you to enter. A screenplay is just a blueprint for making a movie. Until the movie is actually filmed, the script really means nothing.
~John Niven






Link:

We live in a crazily youth-orientated world nowadays. It's a trickle-down thing. We see pictures of lithe, attractive celebrity couples such as Brad and Angelina or the Beckhams cavorting around, covered in tattoos, stomachs as flat as the singing in early 'X Factor' rounds.
~John Niven






Link:

I love England. I live and work here. My children have grown up here. I see no conflict between this and praying that my countrymen in Scotland never have to live another day under Conservative rule from London.
~John Niven






Link:

America has the largest nuclear capability in the world. All this power neither prevented 9/11 nor helped to avenge it. How could it? Who would America have attacked?
~John Niven






Link:

When I went into the computer shop to change my last laptop, the 19-year-old kid behind the counter looked at my six-year-old model and described it as 'vintage.' 'Vintage?' I wanted to scream. 'Son, I've got shirts older than you! I own underpants that have seen more of the world!'
~John Niven






Link:

I spend a fair bit of time in Los Angeles, and there is much I love about the place - the weather, the food, the beaches and the golf. And a few things I don't. Like the way an enormous number of mentally ill people seem to be forced to live on the streets with little or nothing in the way of government assistance.
~John Niven






Link:

If you're one of the hundreds of thousands of people out there toiling over your unpublished manuscript, trying to make your way across that vast ocean in a bathtub, I can only say this to you: keep paddling. Well, either that or start vlogging.
~John Niven






Link:

The Confederate flag was the flag of the American South during the civil war. It was the flag of people who were fighting against their own government in an attempt to retain slavery. It was the flag of people who thought slavery was no problem, who thought slavery was a good thing.
~John Niven






Link:

There were some summers when every boy in Ayrshire seemed to be playing golf, and my dad taught me. But he was a terrible teacher - of everything. Learning to drive with him almost killed me. He was the world's most impatient man - awful short fuse.
~John Niven






Link:

A novel I read when I was about 17 or 18 - 'The World According to Garp,' by John Irving - really made me want to become a writer. The character of Garp is a novelist, and at the time, the whole lifestyle of being a writer was hugely appealing to me.
~John Niven






Link:

I love writing Scottish dialogue.
~John Niven






Link:

If you watch a group of schoolchildren eating lunch together, you cannot help but notice how it is a comically Lilliputian version of the adult thing - the cocked eyebrows of conversation, the reaching for condiments, the shovelling of food into tiny mouths.
~John Niven






Link:

It's tough being a dictator, but I've always thought it must be tougher being a hanger-on to a dictator. The late nights spent listening to his crazed ranting, the weary rictus grin from smiling at bad jokes, the draining knowledge that one misjudged comment could land you on the chopping block.
~John Niven






Link:

I had left the music industry at the end of 2001, after 10 years, and had spent three years writing every single day - producing two unpublished novels, one abandoned novel, and three unproduced screenplays. The word 'no' and I were on more than nodding terms. The word 'no' and I were talking about going on holiday together.
~John Niven






Link:

I do shamefully little for charity, and I always talk about it when I do.
~John Niven






Link:

When my last relationship broke up, I bought a house one door along from my ex so that our daughter could continue to see as much of both of us as possible. This seems to me eminently sane and civilised.
~John Niven






Link:

I have an iPhone. I like it for the camera and the fact that you can have your email and Twitter and all that stuff in one place. However, unlike most men I know, I hate buying new technology.
~John Niven






Link:

I was on the dole once. I loved it. It was only for a couple of years, when I was 20 or 21 and playing in a band. Back then, this was something young folk did - you got your rent paid, a little bit of money to live on, and you loafed around, wrote songs, rehearsed and dreamed of playing Wembley Stadium.
~John Niven






Link:

When I was a boy during Thatcher, you watched elections and wept in disbelief as the whole country turned blue, Scotland turned red, and we still got the Tories.
~John Niven






Link:

I remembered being young in the late '70s and early '80s and growing up at the height of the Cold War. I remembered how scared I was of nuclear weapons, how often I though about them and about the possibility of everything and everyone I knew vanishing in a second in temperatures hotter than the centre of the sun.
~John Niven






Link:

Don't get me wrong: there are aspects of buying music online that I love. Instantly being able to hear a song the moment it crosses your mind? Where's the downside? However, I do feel for those too young to remember the thrill of going record shopping.
~John Niven






Link:

If I hadn't had that decade in the music industry and, perhaps more importantly, time to reach the point of being sick and disgusted with it, I wouldn't have written 'Kill Your Friends.' That book gave me my whole career.
~John Niven






Link:

Forget worrying about the break-up of celebrities you don't even know. I have long since given up trying to figure out why even my closest friends split up.
~John Niven






Link:

I love being a writer. I have a great life. I get up in the morning and pad around in my dressing gown and listen to Radio 4.
~John Niven






Link:

Non-Muslims in Saudi Arabia can only celebrate Valentine's Day behind closed doors. Apparently, this has led to a huge black market for flowers and wrapping paper.
~John Niven






Link:

When you are a novelist, you are used to making a narrative do what you want.
~John Niven






Link:

You know that thing where you repeat a word over and over until it just sounds like utter gibberish? That's what doing a day of press on a film is like. Ten interviews in a row, all asking pretty much the same questions until you find yourself giving pretty much the same answers.
~John Niven






Link:

I use computers and the Internet every day of my life, and yet I have absolutely no idea how they work. I'm like a labrador watching 'The Matrix.'
~John Niven






Link:

If you put a frog in boiling water, it'll jump straight out. If you put it in cold water and gradually bring it to the boil, it'll sit right there until it dies. Scotland has been sitting in England's gradually boiling water for so long that many people are used to it.
~John Niven






Link:

I'm very fond of Glasgow, particularly the West End. The whole stretch of the west coast of Scotland from Loch Lomond up through Mallaig to the Kyle of Localsh is so beautiful.
~John Niven






Link:

I understand that some people like certain things more than others, but by the time you are an adult, you really should be able to sit down and eat pretty much anything.
~John Niven






Link:

Being on set is difficult for the writer. Your job is done, and you have to step back and hand it over to the director.
~John Niven






Link:

I quite like the Queen. Now, this must come as a fairly amazing statement for someone who is avowedly left wing, pro-independence and anti-monarchy, but there you go.
~John Niven






Link:

If pushed to say what I like about Elizabeth, who, as I'm sure most of you know, overtook Queen Victoria this week to become our longest-serving monarch, it would be her uncomplaining, getting-on-with-it ethic.
~John Niven






Link:

I once read Updike after writing a first draft, and I wanted to put my own book on the fire. I've since learned to read utter crap while I'm writing: pulp is the thing.
~John Niven






Link:

It is publication week for my new novel 'The Sunshine Cruise Company.' Go me! Anyway, I may as well get the shameless plug over with right away - buy it. You'll like it. It's about a bunch of old ladies who rob a bank.
~John Niven






Link:

As a writer, that moment every few years when I buy a new laptop and find out that all the word processing stuff has slightly changed again (stuff I spend every working day using) is like getting into bed at night and finding some mad robot where you expected your wife to be.
~John Niven






Link:

I grew up in a council house in a poor Scottish town. I came of age during the recession of the mid-1980s when unemployment in my area reached 40 per cent.
~John Niven






Link:

I've never understood why the end of a relationship - especially one involving children - has to immediately signal a descent into hatred and toxicity.
~John Niven






Link:

I cannot, will never, understand these couples who hate each other, who conduct open warfare in front of their children - the kind of people who have to drop the kids off at the end of the driveway in case they lay eyes on one another. At the very least, civility must reign.
~John Niven






Link:

You'll never even catch me doing that 'soft atheist' thing of very softly singing along or just mouthing the words, looking down at a hymn sheet every few seconds to check the words. To state the obvious, as an atheist, the hymn sheet is no use to me. So I just stand there, looking straight ahead or up at the ceiling, and do nothing.
~John Niven






Link:

It strikes me as one of nature's greatest jokes that the types of food we all like to eat more than anything (especially in winter) are the very things that cause the most insane weight gain - mounds of fluffy mashed potato, hot, thickly buttered toast, huge, steaming bowls of pasta, great big... actually, I'll stop there.
~John Niven






Link:

Twitter is almost novelistic.
~John Niven






Link:

I once worked at a record label called London Records. The company was owned by Roger Ames, one of the most successful figures in the British music industry. Roger always placed a value on loafing, on holidays, on not being in the office all the time.
~John Niven






Link:

The first book I bought with my own money as a teenager was Martin Amis's 'Money.' You know that thing when you read a book and you think, 'I'm going to have to read every word ever written by this man.'
~John Niven






Link:

I returned from my last L.A. visit to find myself tipping the scales like Homer Simpson when he tries to gain enough weight to qualify as disabled to be allowed to work from home. All I was missing was his kaftan and Fat Guy Hat. So, I decided it was time to diet.
~John Niven






Link:

It has long been known that if you want to see me turn into a raging, snarling beast, then all you have to do is use any combination of the words 'chill out,' 'chilling,' or - my maximum red rag - 'chillax.'
~John Niven






Link:

As anyone who follows me on Twitter will know, I'm fairly robust in my views on there. I get next to nothing in the way of trolling. Most women I know who regularly come close to expressing an opinion get trolled constantly. This is a men-on-women issue. Guys are pretty much doing it to the girls.
~John Niven






Link:

The sight of people sleeping on the streets hits us hardest around Christmas and New Year. We see them camped out alone on the freezing concrete, and we think, with a rush of guilt, about heading home to our families and our soft beds.
~John Niven






Link:

Like measles, the reading bug is best caught when you are young.
~John Niven






Link:

Whenever someone like a plumber or a mechanic tries to explain something technical to me, I listen for about three seconds before it all just becomes white noise, like Charlie Brown's teacher.
~John Niven






Link:

I don't do sports, and my idea of hell is being dragged around ruins/museums/famous buildings, so I guess I'm a beach bum.
~John Niven






Link:

From everything I can read about Aussie spiders, it seems like all they really like doing is hiding in your house or garden or car until you 'accidentally' disturb them - probably by doing something crazy like putting on the shoe they are lurking in - and they can officially bite you to pieces.
~John Niven






Link:

I have to confess to not being a great forward planner. I'm the kind of person who regularly arranges to have dinner with five different people on the same night.
~John Niven






Link:

I do often feel that the single greatest thing about my job is that I don't have a boss. I'm like an overweight Han Solo: I take orders from just one person - me.
~John Niven






Link:

I love Twitter, and my little corner of it is heavily weighted in favour of women, many of them writers: Caitlin Moran, India Knight, Lauren Laverne, Grace Dent, Deborah Orr, Marina Hyde, Suzanne Moore. I look at that list of names and think, 'Here comes the fun - fun that knows its way around a dictionary.'
~John Niven






Link:

The last time I saw Dad alive, he was in the hospital. He was watching 'Hell Drivers,' a crummy B-movie about truckers, on TV and reading the 'Daily Record.' This seems scarcely believable, but I actually said, 'Dad, you've not got long to go - don't you think you should be imbibing the culture a bit more?'
~John Niven






Link:

On one level, of course, the notion of judging films or books or music against each other is completely ridiculous. Who's to say '12 Years A Slave' is a better film than 'The Wolf of Wall Street'? Or that one album in a certain genre is better than another in a completely different genre?
~John Niven






Link:

I've often found myself looking fondly at the Valentine's cultures in other countries. South Korea, for instance - where women must give chocolate to men.
~John Niven






Link:

I love watching the Oscars and seeing everybody saying all that 'it's an honour just to be nominated' rubbish. Then you see their faces when the split screen comes up as the winner is announced - the losers are all smiling through gritted teeth and looking as if they just swallowed half a pound of soor plooms.
~John Niven






Link:

It's one of the hardest things in the world to sustain a monogamous relationship for many years. People out there who have been with their partners for 30 years or more - I salute you. But it's just as hard to admit something isn't working and then try to manage a civilised separation as best as you can.
~John Niven






Link:

In the end, being the writer on set is a bit like having organised a big party, but you're not allowed to eat or drink anything. You just have to stand in the corner.
~John Niven






Link:

I wound up becoming an A&R man at London Records in the 1990s, during the boom of Britpop, the last great gold rush of the music industry. I saw incredible greed and terrible behaviour. I was greedy and terribly behaved.
~John Niven






Link:

I go to the Caribbean for a month every January with hand baggage only. All you need is a passport and a credit card.
~John Niven






Link: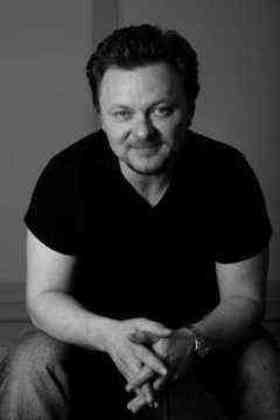 Find John Niven on Ebay!
Share:
Permalink:

Browse: