Quotations and aphorisms by
John Landis

:

I grew up thinking of snow as a luxury you visit.
~John Landis






Link:

I grew up in Los Angeles, and I've made movies all over the world... I've been in New York, Norway, Chicago, Pittsburgh, Philadelphia, London - I've been in all these cities, shooting away in the winter, thinking, 'People who choose to live here are insane.'
~John Landis






Link:

After 'The Blues Brothers,' I wanted to do a good musical number with real dancers and shoot it correctly.
~John Landis






Link:

Well, the bottom line is that I'm extremely pleased with 'The Stupids.' I'm pleased that it's coming out, and it should look good. It's nice looking, with the colors and stuff. I made it for kids, and I really would like them to see it.
~John Landis






Link:

Material comes all kinds of ways, and it's never a question of a lack of material or a lack of projects - I have tons of projects. The issue is to convince someone to give you the money. And it's a very different business than it was just 8 years ago.
~John Landis






Link:

The guy that I worked on 'Thriller ' was a genius and he was 20 years old, but it was like working with a gifted 10-year-old. The guy who I worked on with 'Black Or White' was crazy. Michael had gone mad.
~John Landis






Link:

I'm following a real event and real people.
~John Landis






Link:

For some reason, people think of me as someone who can do anything I want. And I'm not. You know, I need someone to put up the money.
~John Landis






Link:

Directors, like actors, get typecast. And because I've had great success with comedy and horror and TV shows, that's basically what I'm kind of offered.
~John Landis






Link:

But what's interesting is now - and not only in horror, but across the board - the studios basically only make B pictures with A budgets. That's the biggest difference.
~John Landis






Link:

In my career, my movies tend to polarize critics.
~John Landis






Link:

It's strange how extras have become such a big part of the business. I don't know what I think of it. I mean, some of them are great, most of them are filler.
~John Landis






Link:

I would very much like to make Westerns. I love Westerns. I've worked on many Westerns in my youth, in Spain and here, and I love working on them.
~John Landis






Link:

The idea of doing a children's film is different, but quite honestly I like doing anything - any genre. I've only made one Western, which was 'Three Amigos,' but I would love to make a serious Western. I'm just wide open.
~John Landis






Link:

There have been 14 versions that I can find of Burke & Hare movies. They have all been horror films and all the movies have taken place in Victorian times, which doesn't make any sense.
~John Landis






Link: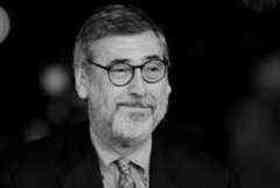 Find John Landis on Ebay!
Share:
Permalink:

Browse: