Quotations and aphorisms by
Joe Rogan

:

Apartment living is tough action. Just the whole idea that you share a washer and dryer always freaked me out.
~Joe Rogan






Link:

I've done jiujitsu a huge chunk of my life, and I try to spend a lot of time educating people on the nuances, the subtleness of the ground game. It's a big part of mixed martial arts.
~Joe Rogan






Link:

Phil Hartman was brilliant, and Dave Foley is a really funny guy. Phil Hartman was actually even funnier offstage than he was onstage because he would say nasty things. Dave Foley's very funny, very witty guy, very quick.
~Joe Rogan






Link:

That's my only goal. Surround myself with funny people, and make sure everyone has a good time and works hard.
~Joe Rogan






Link:

What's interesting about science is that we're constantly discovering new things about the universe, about ourselves, about our bodies, about diseases, about the possibilities of the future. It's amazing. Science is one of the coolest things about being a human being - without a doubt.
~Joe Rogan






Link:

Because I have a girlfriend, I try and take the straight and narrow path, which is good because it prevents VD.
~Joe Rogan






Link:

I'm afraid of heights. Not unreasonably, but rationally afraid of heights. I think everyone is.
~Joe Rogan






Link:

Richard Pryor is, in my mind, the most honest comedian. He bared his soul to people. I think that's why everybody loved him so much.
~Joe Rogan






Link:

It never hurt Lenny Bruce's career to get arrested for swearing. It did back in the time, but he broke those doors down by doing the stuff that he believed in.
~Joe Rogan






Link:

I've been involved in mixed martial arts since 1997 when I first started working for the UFC.
~Joe Rogan






Link:

I really never had any ambitions to be a standup comic. I was talked into it by guys that I used to work out with.
~Joe Rogan






Link:

But it's hard for a chick to do comedy. It's not as open for them.
~Joe Rogan






Link:

If you are the greatest, why would you go around talking about it?
~Joe Rogan






Link:

To me, comedy is a great occupation because I don't really worry that much about what other people think of me.
~Joe Rogan






Link:

My act is so completely and totally uncensored that the only way I could really pull it off is if I treat the audience like they're my best friends.
~Joe Rogan






Link:

I really feel like it's a travesty to make a child famous. I really do.
~Joe Rogan






Link:

When someone comes along and expresses him or herself as freely as they think, people flock to it. They enjoy it.
~Joe Rogan






Link:

Stand-up is still my favorite, but the podcast is a close second. It's so fun, and it's given me the opportunity to have three-hour conversations with people I wouldn't have otherwise been able to talk to. When I talked to Maynard Keenan from Tool, I almost couldn't believe it was happening.
~Joe Rogan






Link:

I talk so much about sex that girls just want to meet me.
~Joe Rogan






Link:

It's painful for me to watch someone who isn't funny. It's horrifying to sit in the back and watch some guy who just totally sucks.
~Joe Rogan






Link:

Faith itself is a horrible mechanism that stunts the growth of ideas. It also stunts the act of questioning, and it does this by pushing the idea that you have to have faith - and that nothing has to be proven.
~Joe Rogan






Link:

The two things I understand best are stand-up comedy and martial arts. And those things require an ultimate grasp of the truth. You have to be objective about your skills and abilities to compete in both.
~Joe Rogan






Link:

Being a celebrity or anything else where you're really ambitious, it's really a game to see how successful you can get.
~Joe Rogan






Link:

You're sort of programmed a certain way because of your environment. That's all you know. But we don't have that anymore because of the internet. Because of the internet we're all communicating with each other all across the board, so you're getting information from people all around the world, hitting a much more diverse slice of culture.
~Joe Rogan






Link:

When you snatch little pieces of other people's lives and try to palm them off as your own, that's more disgusting than anything. Robin Williams is a huge thief. Denis Leary is a huge thief. His whole stand-up career is based on Bill Hicks, a brilliant guy who died years ago.
~Joe Rogan






Link:

Dick Gregory was a great comedian who went and got arrested, did hunger strikes, protests. It never hurt his career to be outspoken.
~Joe Rogan






Link:

I wouldn't totally rule out doing Letterman or the Tonight Show if I had a set that I just happened to write that I thought was funny but was still appropriate for network censors. But I'm not going to go out of my way.
~Joe Rogan






Link:

If you can lie, you can act, and if you can lie to crazy girlfriends, you can act under pressure.
~Joe Rogan






Link:

I'm a huge Groucho fan. There were some great comic minds that would transfer into any generation, and Groucho is certainly one of them.
~Joe Rogan






Link:

We're constantly re-evaluating the potential for life. We're finding it where we didn't think it could exist, such as volcanic vents and other extreme conditions like under arctic ice. We're finding life in these incredibly harsh and dynamic conditions, so we're having to re-evaluate our own ideas of what's possible on this planet alone.
~Joe Rogan






Link:

Have you ever talked to someone, and you're not even really talking to them? Actors are the worst for that.
~Joe Rogan






Link:

As a longtime practitioner of yoga and a person who's been involved in physical fitness my whole life, I can tell you, yoga helps you achieve altered states of consciousness. It is not just stretching. The only way you can say that it's stretching is if you haven't done it, or that you haven't done it rigorously for a long period of time.
~Joe Rogan






Link:

I never in my wildest imagination dreamed that I would somehow become a sports commentator.
~Joe Rogan






Link:

I never want to compromise my act just to get a laugh.
~Joe Rogan






Link:

Comedy is really not like any other art form in that it's very specialized and varied in it's content, but generic in it's title.
~Joe Rogan






Link:

The misconception is that standup comics are always on. I don't know any really funny comics that are annoying and constantly trying to be funny all the time.
~Joe Rogan






Link:

I don't care if you're gay, black, Chinese, straight. That means nothing to me. It's all an illusion.
~Joe Rogan






Link:

The comics I hate are thieves. Nothing's more disgusting than a guy who steals another person's ideas and tries to claim them as his own.
~Joe Rogan






Link:

I had a great time on News Radio, I got to make tons of money in relative obscurity and learn a lot about the TV biz and work on my standup act constantly. It was a dream gig.
~Joe Rogan






Link:

The only time I commit to conspiracy theories is when something way retarded happens. Like Lee Harvey Oswald acting alone.
~Joe Rogan






Link:

The planet's spinning a thousand miles an hour around this gigantic nuclear explosion while these people roll these machines with rubber tires over this hard surface that we've laid down over the planet so that we can easily move ourselves back and forth.
~Joe Rogan






Link:

No matter how civilized we are and how much society has curbed violent behavior. Human beings still have the same genes they had 10,000 years ago. Our bodies are designed to have a certain amount of physical stress and violence in them. We're designed to run from jaguars and fight to defend our territory.
~Joe Rogan






Link:

I think that one of the reasons why people look towards the end of humanity is that people are afraid to die alone. If you die alone, the people you love will miss you, or if they die, you miss them - the sorrow is inevitable. When you truly love someone, the thought of losing them forever is horrible.
~Joe Rogan






Link:

On my left knee I have a long scar from an ACL operation. I've had both knees reconstructed.
~Joe Rogan






Link:

After this whole acting thing is over and done, you eventually have to be human. Some people are never human. It's very weird.
~Joe Rogan






Link:

Never stay in a bad marriage, and don't hang around with psycho coke fiends.
~Joe Rogan






Link:

I see martial arts as moving forms of meditation. When you're sparring or drilling techniques, you can't think of anything else.
~Joe Rogan






Link:

If someone plays a brooding actor in a film, people think they're brooding all the time.
~Joe Rogan






Link:

I do cagefight commentary in my spare time.
~Joe Rogan






Link:

I had seen movies before that that had made me laugh, but I had never seen anything even remotely close to as funny as Richard Pryor was, just standing there talking.
~Joe Rogan






Link:

So many times I've done a CD, and then the week after I record it, I've got this new tagline that's killer. And it makes the whole bit better. It happens all the time. But that's just the process of comedy.
~Joe Rogan






Link:

Although not considered a martial art, boxing is really a martial art. It's a very limited martial art as long as you agree to just box... but in an actual physical fight against someone who's just a wrestler, you're going to get killed.
~Joe Rogan






Link:

Your body's really only meant to compete at the highest levels of combat sports for a few years.
~Joe Rogan






Link:

Reality really is theater. There's no other way to describe it. It's all so nonsensical, ridiculous and chaotic.
~Joe Rogan






Link:

I had a sense of who I was before I got famous.
~Joe Rogan






Link:

People want their 15 minutes and are willing to do anything to get it.
~Joe Rogan






Link:

People for the most part can smell lies.
~Joe Rogan






Link:

Any comic like myself owes everything he has to Lenny Bruce. He was the originator. The godfather of uncensored American stand-up is clearly Lenny Bruce.
~Joe Rogan






Link:

The Comedy Store in LA, it's a really loose room and it's really dark and creepy and a great place to explore your own thoughts onstage.
~Joe Rogan






Link:

The audience changes every night. You're the same person. You have to speak your mind and do the stuff that you think is funny and makes you laugh.
~Joe Rogan






Link: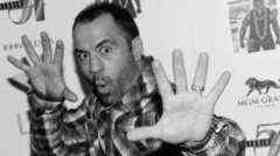 Find Joe Rogan on Ebay!
Share:
Permalink:

Browse: