Quotations and aphorisms by
Joe Mande

:

I don't even know if people even care what a 27-year-old Jewish kid thinks about politics.
~Joe Mande






Link:

I grew up watching Letterman, 'Seinfeld,' 'SNL,' and Monty Python movies. But nothing made me want to get into comedy more than when 'Mr. Show' started airing.
~Joe Mande






Link:

On stage and in person, I think I am nice, thoughtful, and empathetic. But for some reason when I'm online, I become super aggressive and unhinged. I should probably get off of Twitter and see a therapist.
~Joe Mande






Link:

I'm a big foodie! I eat, like, three times a day... but most of all, I'm a breathie. Breathing air? That's the best thing in the world! I couldn't go two minutes without breathing.
~Joe Mande






Link:

I got a pit bull from a shelter, so my whole life is centered on this dog, and I've been writing a lot of dog jokes. I should probably give up now, because I'm writing jokes about my dog.
~Joe Mande






Link:

My first time performing was in the black box theater of my high school's basement as a member of 'Clownaz,' the school's improv team. We charged money for tickets, saying the proceeds went to our school's recycling program. Then, immediately after the show, we divided up all the money and kept it.
~Joe Mande






Link:

Whatever comedian says he doesn't read comments, I never believe him, because we all have the same pathological problem to see what people think of us, and it sucks, because you try not to take it personally, and people are monsters and idiots.
~Joe Mande






Link: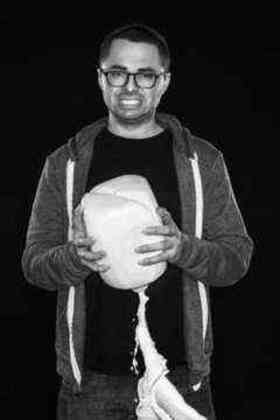 Find Joe Mande on Ebay!
Share:
Permalink:

Browse: