Quotations and aphorisms by
Jim Brown

:

When you have a problem, rules don't solve your problem. It's caring and education.
~Jim Brown






Link:

Obama was elected by the people, and I was glad that barrier was broken down. I did, along with my wife, campaign for him in Ohio because that was a key state. If I had to say does he rate an 'A' or does he rate a 'D,' it would be very difficult. I give him a 'C.'
~Jim Brown






Link:

If you help disabled children, it's very appealing. If you help kids with cancer, those are the things you get credit for and those things are beautiful. But when it comes to stopping violence or really putting the time into rebuilding schools, that's just a different kind of project. It takes more than just money to do that.
~Jim Brown






Link:

It's too bad about 'Dark of the Sun.' It was really about Tshombe. When I read the script, I thought it was going to be a political movie, and I thought we might even have a hassle. But the director simplified it to brutality and bad taste.
~Jim Brown






Link:

A liberal will cut off your leg so he can hand you a crutch.
~Jim Brown






Link:

I'm not interested in trying to work on people's perceptions. I am who I am, and if you don't take the time to learn about that, then your perception is going to be your problem.
~Jim Brown






Link:

When Kennedy could not get the civil rights bill passed - and he was the big liberal - Lyndon Johnson came in and it got passed, and he was the conservative and the southerner. So sometimes in politics, to get something done, it takes a special kind of knowledge and a special kind of person, but it doesn't always follow the party lines.
~Jim Brown






Link:

I run a program called Amer-I-Can. We've taught in prisons, schools, juvenile facilities and we teach in the community. We have the greatest record from the standpoint of dealing with grade point averages, disciplinary action and attendance in schools.
~Jim Brown






Link:

I think the National Football League needs a new union. The heavyweights of this union are not heavyweights enough.
~Jim Brown






Link:

If you truly believe something, and it's incorrect, that doesn't mean you don't have integrity.
~Jim Brown






Link:

When you go out on a football field, you are responsible for taking care of yourself. The more rules you get, the less players truly take care of themselves.
~Jim Brown






Link:

There's a trend toward anti-heroes now, and I think it goes back to guys like Bogart and Cagney. They seemed to have no compassion, and they were always alone.
~Jim Brown






Link:

People think that coaches are always right, but it's difficult to teach a runner how to run, because every runner is different. You have to have an understanding of how to assist what that runner has, so they know how to assist what you have without taking away your special ability, because you're not like anybody else.
~Jim Brown






Link:

NASCAR stepped up their safety concepts, and I think the drivers feel NASCAR is doing everything that can be done. So we are a little behind NASCAR in that respect. Someone in NASCAR realized there were certain things that could be done to make it safer. The same thing has to happen in football.
~Jim Brown






Link:

Money has changed today's black athletes. Those who have the ability as African men to bring a change in a community that so desperately needs it are concentrating only on their own careers, some charities and how much money they can make.
~Jim Brown






Link:

The NFL pension is the worst in the world of business. It's an embarrassment.
~Jim Brown






Link:

AI don't make a big thing out of my race. If you try to preach, people give you a little sympathy and then they want to get out of the way. So you don't preach; you tell the story.
~Jim Brown






Link:

It is up to God to take revenge. Only God can judge. I don't have to worry about getting even with anybody or taking out any kind of aggression on anybody. Doing that is a weakness, anyway.
~Jim Brown






Link:

The need to be cared for is the base of everything. In the penitentiaries, you won't hear gangbangers and criminals say, 'No, I don't want to be cared for by nobody.' When you care about them, they'll open up to you.
~Jim Brown






Link:

The truth is that politicians are basically tied to trying to get reelected, so they can't really make landmark changes.
~Jim Brown






Link:

There have been so few decent films involving Negroes that right away everybody expects every film to do everything. But when you make a flick, there are maybe two things you're trying to put into that flick. You can put the other things in another time.
~Jim Brown






Link:

My biggest problem was to get the coaches to understand that I was a runner, and I wanted to prepare myself based upon the calisthenics I did and get myself ready. For example, I used my forearm when I ran the ball, so I didn't want to do pushups because I wanted my forearms to heal.
~Jim Brown






Link:

I was just a big guy running down with a big, deep pocket and little short stick putting it against my chest.
~Jim Brown






Link:

I'm a fan of NASCAR, in a certain kind of way.
~Jim Brown






Link:

Michael Jordan brings millions of dollars when he shows up in an arena. Since money is how we judge people, he's very valuable. But while that's happening, Rome is burning within the black community.
~Jim Brown






Link:

I have a theory. An audience doesn't need to get wrapped up in blackness every time they see a Negro actor. And a movie doesn't have to be about race just because there's a Negro in it.
~Jim Brown






Link:

Everybody does good things, but I'm talking about making major changes in the educational system that would impact an entire race. I'm talking about stopping these young gang members from killing one another. I'm talking about keeping prisons from overflowing.
~Jim Brown






Link:

I loved the game. We played because we loved it.
~Jim Brown






Link:

Even though the money is great and the fame is great, you still have a lot of disenfranchised young men that are participating in the NFL that are not very happy. A lot of them are very bitter. A lot them are very angry. So many of them have had no fathers and no home life, and basically, no education.
~Jim Brown






Link:

I'm a very sensitive person. I do like to be respected. I'm very loyal. I like it to be a two-way street.
~Jim Brown






Link:

Nobody I ever broke bread with, and I see players all the time, talked about using their head running the football.
~Jim Brown






Link:

What I want to do is play roles as a black man, instead of playing black man's roles. You know?
~Jim Brown






Link:

When I'm on a picture, I have two bosses - the director and the producer. My co-star is not my boss.
~Jim Brown






Link:

Martin Luther King was a misguided leader. He worked to be recognized as the leader of black America when what black America needs isn't a leader, it is education.
~Jim Brown






Link:

The social issues outside of football are not as defined as they were earlier, when integration took place and certain rights were legislated. The Civil Rights movement is over. Individuals can buy homes wherever they want, travel first class wherever they want, eat wherever they want.
~Jim Brown






Link:

I don't teach kids to be No. 1. Organizations and people that tell you you have to be No. 1; that's not it. You don't have to be No. 1. What I teach is to be as good as you can be. Use what you have and be as good as you can be. That's all you can do, anyway.
~Jim Brown






Link:

I'm not pro-owner or pro-player. I am pro-football. I want the game to go on. I want the game to be tough. I don't want the game to be a killer of our players.
~Jim Brown






Link:

I came from Long Island, so I had a lot of experience at the stick. I played in junior high school, then I played in high school. The technical aspect of the game was my forte. I had all that experience, then I had strength and I was in good condition.
~Jim Brown






Link: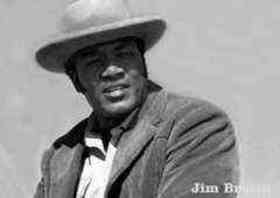 Find Jim Brown on Ebay!
Share:
Permalink:

Browse: