Quotations and aphorisms by
Jeremy Abbott

:

My personal story has always been about perseverance and always getting up when I fall. Maybe I'm not Olympic champion, but I can teach the world about that.
~Jeremy Abbott






Link:

I've always wanted to skate. If and when I decide to retire... I want to perform. I want to be on the ice. I want to continue contributing to the sport. I feel like I still have a lot to offer.
~Jeremy Abbott






Link:

The goal for me is the Olympics. It's Sochi and doing my best there. And, you know, my best has the potential to be on the podium.
~Jeremy Abbott






Link:

I have great artistry, I can spin well, I have good footwork, and I can jump. I can do the quad jump, and I've done it multiple times in competition. It's definitely a jump that I have in my arsenal. I like to think of myself as the complete skater.
~Jeremy Abbott






Link:

I can do the tricks and I can skate. I have great skating skills and artistry and well-choreographed programs. For me, the biggest obstacle is just bringing it all together.
~Jeremy Abbott






Link:

Skating, I think I was told once, is the second most expensive sport. My family's had to refinance three times - they really want to do anything that it takes for my dreams to come true. I hope to one day have a family that I can do that for and kind of give back in the same way that my family gave to me.
~Jeremy Abbott






Link:

I'm a four-time national champion and a two-time Olympian, and no one can take that away from me. So whatever people have to say about me, that's their own problem because I'm freaking proud of what I've done, and I'm not going to apologize for any of it.
~Jeremy Abbott






Link: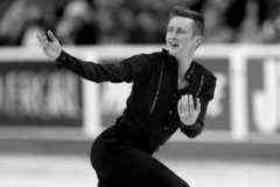 Find Jeremy Abbott on Ebay!
Share:
Permalink:

Browse: