Quotations and aphorisms by
Jacob Epstein

:

I have never found out that there was in my family an artist or anyone interested in the arts or sciences, and I have never been sufficiently interested in my 'family tree' to bother. My father and mother had come to America on one of those great waves of immigration that followed persecution and pogroms in Czarist Russia and Poland.
~Jacob Epstein






Link:

As a child, I had a serious illness that lasted for two years or more. I have vague recollections of this illness and of my being carried about a great deal. I was known as the 'sick one.' Whether this illness gave me a twist away from ordinary paths, I don't know; but it is possible.
~Jacob Epstein






Link:

There are infinite modes of expression in the world of art, and to insist that only by one road can the artist attain his ends is to limit him.
~Jacob Epstein






Link:

My earliest recollections are of the teeming East Side where I was born. This Hester Street and its surrounding streets were the most densely populated of any city on Earth; and looking back at it, I realize what I owe to its unique and crowded humanity.
~Jacob Epstein






Link:

I cannot recall a period when I did not draw; and at school, the studies that were distasteful to me, mathematics and grammar, were retarded by the indulgence of teachers who were proud of my drawing faculties, and passed over my neglect of uncongenial subjects.
~Jacob Epstein






Link:

I remember my father, who was 'somebody' in the synagogue, bringing home with him one of the poor men who waited outside to be chosen to share the Passover meal. These patriarchal manners I remember well, although there was about them an air of bourgeois benevolence which was somewhat comic.
~Jacob Epstein






Link:

My reading and drawing drew me away from the ordinary interests, and I lived a great deal in the world of imagination, feeding upon any book that fell into my hands. When I had got hold of a really thick book like Hugo's 'Les Miserables,' I was happy and would go off into a corner to devour it.
~Jacob Epstein






Link:

My parents did not discourage me but could not understand how I could make a living by art. Their idea of an artist was a person who was condemned to starvation.
~Jacob Epstein






Link:

The artist who imagines that he puts his best into a portrait in order to produce something good, which will be a pleasure to the sitter and to himself, will have some bitter experiences.
~Jacob Epstein






Link:

Early on I saw the plastic quality in colored people and had friends among them; and later was to work from colored models and friends, including Paul Robeson, whose splendid head I worked from in New York. I tried to draw Chinamen in their quarter, but the Chinese did not like being drawn and would immediately disappear when they spotted me.
~Jacob Epstein






Link: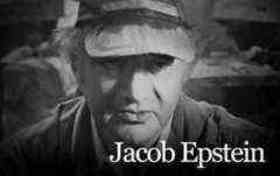 Find Jacob Epstein on Ebay!
Share:
Permalink:

Browse: