Quotations and aphorisms by
Ian McLagan

:

The Small Faces was such a different band than the Faces. I know three of us are the same, but when you take Steve Marriott out, it's a very different band.
~Ian McLagan






Link:

I am so blessed that all I've done in my professional life, since I was 17-18, is play music and somehow make a dollar here and there.
~Ian McLagan






Link:

We had something very special in the Faces. We were blessed to have the fun we had.
~Ian McLagan






Link:

Small Faces were really a soul band as far as we were concerned. That's what we listened to; that's what we played, you know? We were pretty much based on Booker T. and the M.G.'s.
~Ian McLagan






Link:

I'm terrible remembering lyrics. Before a tour, I have to remind myself. I have to go through the songs.
~Ian McLagan






Link:

I sing to my wife; it helps me. She was my muse. I've written so many songs about her, to her, with references to her, and still do. She's a big part of my life. We were together for 33 years. It actually does me good - she's with me all that time in that way.
~Ian McLagan






Link:

I like the fact that Austin's the first place I've ever lived where there's a real sense of community. People care about their neighbors.
~Ian McLagan






Link:

You don't stop thinking about women just because your wife dies. It's terrible, but you know. I just want the hugs, the kisses. A kiss!
~Ian McLagan






Link:

I loved rock and roll when that came in, Bill Haley, Little Richard, Fats Domino, Buddy Holly, Elvis Presley, all those great records. So I begged my mom and dad for a guitar, which eventually they did get me for Christmas, but it went out of tune very quickly, and it hurt my fingers.
~Ian McLagan






Link:

What I do for migraines when I get them, I listen to classical music, and I turn it up really loud.
~Ian McLagan






Link:

I was never really a Mod. I thought I was more of a beatnik with the brown corduroy jacket, blue jeans, etc. I loved the music Mods liked, and I loved the clothes, but I didn't have any money to spend on them.
~Ian McLagan






Link:

I only seem to date younger women.
~Ian McLagan






Link:

My love for American music and American movies is from an early age. I was 10 or 11 when I heard Fats Domino and Little Richard and Buddy Holly. And the movies, my dad used to take my brother and I to the movies every Friday. It was incredible: we got to see just about every movie that came out for a period of years.
~Ian McLagan






Link:

The Small Faces are thought to be a one-hit wonder in America because we only had 'Itchycoo Park.' Then the Faces just had 'Stay with Me.' So both bands could be considered one-hit wonders in America, even though we had several huge hits in England.
~Ian McLagan






Link:

It's tough to be 68 and dating. I've given it up now.
~Ian McLagan






Link:

When I joined Small Faces, we occasionally would bump into The Who. And Keith Moon and I became firm pals.
~Ian McLagan






Link: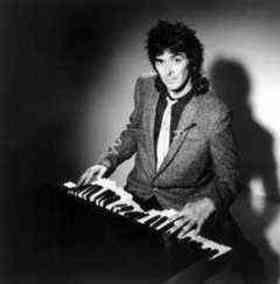 Find Ian McLagan on Ebay!
Share:
Permalink:

Browse: