Quotations and aphorisms by
Hannah Ware

:

Growing up in South London, we went to a school where there were not that many Jewish kids. I love being Jewish in L.A.; it feels really normal. The culture seems to be integrated into Hollywood. Everyone uses Yiddish words like 'schlep' and 'schmooze.' That's what I love about New York, too.
~Hannah Ware






Link:

I was embarrassed about modeling. When you're at school and you're modeling, it sounds very glamorous, but I didn't want to do things that no one else was doing. I didn't want to be the odd one out. I wanted to be part of the gang.
~Hannah Ware






Link:

Something like your parents divorcing never quite leaves you. What you thought was real isn't real anymore, and that changes your perspective. It makes you more wary but also means you are better equipped to deal with challenges.
~Hannah Ware






Link:

I am a failed architect, if I'm honest. I got a degree in art history and was about to get another degree, in architecture, but realized I would be terrible at building things because I've got really bad spatial awareness.
~Hannah Ware






Link:

I think part of what acting did for me is it kind of represents all my greatest fears. I'm sort of compelled to do it, but at the same time, it's so frightening. But I think that the things that frighten me the most in life are the things I should be doing.
~Hannah Ware






Link:

My sister's a singer, and she's on Twitter, and she has millions of followers. I wonder how that helps her. I think it does to an extent. I think she gets free things.
~Hannah Ware






Link:

I love the sense of how time passes when I'm acting. When you're not aware of the clock ticking, that is always a good sign you're enjoying something.
~Hannah Ware






Link:

I think all girls secretly want to be actresses because acting seems so glamorous. But as a child, I was always the villager who had one line in the school play. I was shy and I had a bit of a lisp.
~Hannah Ware






Link:

My mum made me feel if I wanted to become prime minister, I could do it.
~Hannah Ware






Link:

I was 26 when I went to my first acting class. I'm naturally quite shy. I'm a quite private person. There's this really strange acting class in New York called Black Nexxus. For someone who's slightly shy or self-conscious, it's the most frightening thing you can do.
~Hannah Ware






Link:

My sister, singer Jessie Ware, and I are always exchanging music. We brainstormed her wedding playlist for months.
~Hannah Ware






Link:

We did a lot of fight scenes in 'Hitman: Agent 47,' so you have to learn repetitious movements to music; otherwise, it's amazingly boring. Michael Jackson was our savior.
~Hannah Ware






Link:

I'm not on Twitter or Facebook. I've never been interested in being on any of them. I don't know why I'm not. I just don't have that need. I feel like I'm one of the only people I know who doesn't do it.
~Hannah Ware






Link:

'Mixtape' sounds retro! I used to make lots of mixed tapes. It was one of those '90s things - every girl gave them to her best friend. I remember exchanging a few with a boy on a bus when I was 14. I thought he hated me, but in hindsight, maybe he was in love with me, because he gave me the best music.
~Hannah Ware






Link: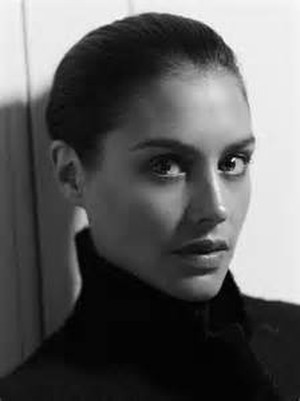 Find Hannah Ware on Ebay!
Share:
Permalink:

Browse: