Quotations and aphorisms by
Geraint Thomas

:

You get into such a routine of trying so hard each day and racing between 180 and 220 km., and as soon as you stop, it's weird, but you start to seize up. So it's easier if you keep the body ticking over. You just feel better for it come race day.
~Geraint Thomas






Link:

Everyone in the world of cycling knows how much it is a team sport as well as individual. It's just amazing to be a part of.
~Geraint Thomas






Link:

I miss the BBC when I'm away. I'm away so much that it's a pleasure just walking back through the door and sitting on the sofa to watch some rubbish TV.
~Geraint Thomas






Link:

I was fortunate to be born when I was. There's been a massive rise in British cycling since I joined the junior programme when I was 17. It all started in 2004 when Chris Hoy won gold for the 1 km. time trial in Athens; when one person starts doing well, they take everyone with them.
~Geraint Thomas






Link:

I regret not paying a bit more attention to Welsh lessons at school. My Welsh is pretty ropey, as back at my school, people didn't take Welsh lessons seriously. My dad can speak it, so I wish he'd taught me some growing up.
~Geraint Thomas






Link:

I get moody when I'm tired or hungry. My missus says I get moody... but not with other people. But I can get grumpy.
~Geraint Thomas






Link:

When you're eating salad and quinoa while training, all you want is a burger. In the cycling season, when I'm doing 30-odd hours of exercise a week, I'm dreaming of burgers and curries that I'll have at the end of the season.
~Geraint Thomas






Link:

I used to run home from school to watch Paris-Nice, so to win it is just crazy.
~Geraint Thomas






Link: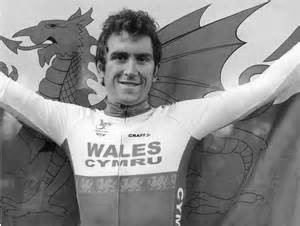 Find Geraint Thomas on Ebay!
Share:
Permalink:

Browse: