Quotations and aphorisms by
George Karl

:

I want to be the team that creates the action more than be the reactor.
~George Karl






Link:

There should not be an entitlement that because you get paid the most money, that you should finish every game. But if you don't do it, then the agents are going to call, and the players are going to mope, and so you negotiate that. It's a compromise as a coach.
~George Karl






Link:

You always spend a little more time watching the guys you coached, to see how they're playing. And there's no question that when I check scores, I still go to the Nuggets scorer faster than any other scores. I have a lot of love for the players and a lot of love for the city.
~George Karl






Link:

Coaches don't sleep for a reason. They don't sleep because it's a danger zone every night. Very seldom do you ever get two or three days off... The lifestyle of coaching in the NBA is a tremendous challenge that gives you tremendous highs but also tremendous lows.
~George Karl






Link:

I think we, as pro coaches, should have a consciousness towards having an image and a role model mentality for kids.
~George Karl






Link:

The great player, so much of the greatness, in my mind, is in his heart and his head. It's not in his body, in his skill set. It comes from having great talent but wanting to mold that and fit it together into being special. And being special means winning championships.
~George Karl






Link:

Who is the ally of the coach? Who's going to write, 'Man, that was a well-coached game.' Players win, coaches lose.
~George Karl






Link:

I want to try to prove the world wrong - that you can run and win in the NBA, and you can win big if you keep running. The problem is, can you run for 82 games every minute, every possession of every game?
~George Karl






Link:

The truth of basketball is done in competition and fundamentals and team, but there's a lot of other junk that goes around the game.
~George Karl






Link:

One thing I'll tell you is the food in Sacramento is off the charts. You've got good Asian food, the farm system where everything is natural, which I believe in. I like organic.
~George Karl






Link:

The best player I ever coached was Gary Payton.
~George Karl






Link:

I truthfully think, a consistent coach over 30 years, probably, I'd rather be that than having one championship and mediocrity for years.
~George Karl






Link:

In the NBA, you win, and you think you're going to win tomorrow. But as soon as you lose, you don't think you're ever going to win again.
~George Karl






Link:

I kind of lived by the code of 'I'm going to be a hard-working guy.' And no matter how successful, there is something I can do better. That's kind of the drive I live on.
~George Karl






Link:

In coaching, you don't ever really have that joyful fun, but there's no question that it's enjoyable.
~George Karl






Link: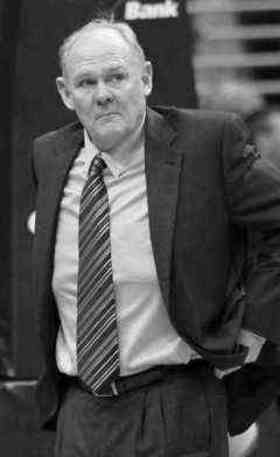 Find George Karl on Ebay!
Share:
Permalink:

Browse: