Quotations and aphorisms by
George Benson

:

I listen to other guitar players, yeah. It gives me new concepts and shows me where the instrument is going for the future and it is going some places. There are some musicians who are really putting out a good vibe with new theories. I try and keep up.
~George Benson






Link:

The jazz rhythm won't be understood by the bulk of my audience. That's the problem. We can get away with maybe one tune a night. It depends on where we place it. A song like 'Beyond the Sea,' the fans love that. It's fresh.
~George Benson






Link:

I never gave up on that idea, you know, that jazz musicians have the same opportunity as everybody else and that it's what you put on that record that makes the difference whether you sell it or not or are able to get it into people's households.
~George Benson






Link:

I study the Bible constantly. I teach the Bible. You know, I'm a Bible conductor, and I have a lot of people studies. But also, I see how small things really help people to get over humps in their life. Gives them direction.
~George Benson






Link:

I like Simon Cowell - look at how many great artists have come out of the U.K. because of him.
~George Benson






Link:

I've done two albums for Concord Records; one was with Al Jarreau and it did very well for us. The second album was called 'Songs And Stories,' and it had good songs and good performances, but I promised them I would do an album that was more jazz-oriented.
~George Benson






Link:

When I was 15 years old, my cousin and I formed a singing group called The Altaires. And, because we became the most popular singing group in the Tri-State area, the rest of the group convinced me I should play the guitar - even though I didn't own one! So what happened was, my stepfather actually made my first electric guitar for me for $23!
~George Benson






Link:

'I Want To Hold Your Hand' is a great classic by Paul McCartney and John Lennon, I sure love that song. I did like the classic version, a rock-oriented song, then someone heard me do it with the Grant Green approach - Grant Green and Larry Young did it, with a bossa nova beat on the funky side.
~George Benson






Link:

Life isn't all me. I have a family to support. I can't rob them of a good life simply because I want to play something.
~George Benson






Link:

I actually got discovered in my hometown of Pittsburgh, Pennsylvania by a man who worked at a place that sold barbecue sandwiches!
~George Benson






Link:

I don't particularly fall in love with my own compositions, but some of them are decent.
~George Benson






Link:

If you play music for the right reasons, the rest of the things will come. The right reason to play music is that you love it. That's why I play music. I never imagined that I was going to be doing this, especially because I never thought of myself as an instrumentalist.
~George Benson






Link:

My stepfather had an electric guitar. He went to his pawn store one day to get a guitar and an amp, and I couldn't understand what I was hearing. All afternoon, I just sat against the amp and let it reverberate through me. Something must have stuck.
~George Benson






Link:

I keep my ears open. The world can change overnight; that's what happens in this world. You never know. You have to keep your eyes and ears open. If you can't keep up, you ain't gonna catch up. I've been making records since 1953, and you just have to keep up.
~George Benson






Link:

My stepfather met my mother when I was seven years old, and he was a guitar player. So he caught me messing with his guitar, his electric guitar, and he tried to show me some chords, but my hands were too small.
~George Benson






Link:

I've always hated rejection; I only want to go out there when I know I've got it right.
~George Benson






Link:

My biggest song in the world is 'Nothing's Gonna Change My Love for You.' All over the world, it's number one on the whole planet.
~George Benson






Link:

One thing all the way through the show to me is boring. I don't care how great the artist is. I find that if my audience is very young, and they want to hear very young songs, my show will be dominated by that. But there'll be some ballads here and there and some swing tunes.
~George Benson






Link:

My whole life, I've never worried about being No. 1, because that's the guy they've got to get out of there.
~George Benson






Link:

One of the first things electric I ever saw was a guitar. I was living in a house with no electricity until, at 7, we moved to a house that had it. It had electric lights, but the previous owners had even taken the light bulbs with them when they moved.
~George Benson






Link:

I think I'm more entertainer than musician. I like to get with the crowd, make this night special for them.
~George Benson






Link:

Love songs are one of the great essences of life, the only thing that's lasting.
~George Benson






Link:

The greatest guitar player in the world today for me is Paco de Lucia, who is actually Spanish.
~George Benson






Link:

My whole career from the early 70s on has been mind-blowing. I didn't imagine in my life that I would ever be considered a guitar player first of all because I started off as a singer.
~George Benson






Link:

I have seven boys.
~George Benson






Link:

I haven't done anything with Chick Corea. He had a group called Return to Forever, and everyone in the group became a superstar. I would really like to work with him.
~George Benson






Link:

As my career has progressed, I've had the pleasure of playing with the baddest jazz cats on the planet. But that doesn't change my desire to entertain folks. That's really who I am.
~George Benson






Link:

Andres Segovia, the great name for guitar, he put classical guitar on the map. He was the proponent of it, the best in the world. So I was listening to a record that he had made, and a little bauble happened in the middle of the record. A finger slipped, and I said, 'Wait a minute. He's not allowed to make mistakes,' - my mind.
~George Benson






Link:

Guitar gigs were everywhere in the '50s, and I started diddling around so I could keep working. Playing honky-tonk, simple stuff. I took a few gigs with an organ band that put me out front.
~George Benson






Link:

I moved to Hawaii from Inglewood, New Jersey. I had planned on retiring there.
~George Benson






Link:

I like to sing because my mother was a singer. She sang to me all the time, so I learned to love singing. I did have a career as little 10-year-old George Benson. I made my first record as a vocalist, but I've been playing guitar since I was 9.
~George Benson






Link:

We don't live in a jazz world, unfortunately. I think if I had lived in a jazz world, I would have done OK. I'm not sure I would have done great. I'm a lover of jazz music, so I would have been happy, don't get me wrong. I go to jazz concerts like the biggest jazz fan in world. The drag is that I don't play jazz for a living.
~George Benson






Link:

I have been doing music all my life so everyday when I get up I expect music will be part of it.
~George Benson






Link: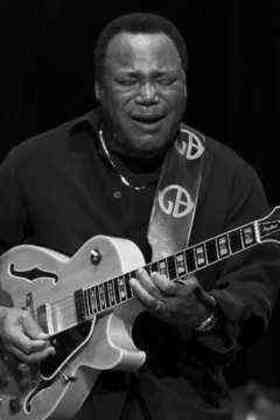 Find George Benson on Ebay!
Share:
Permalink:

Browse: